Should You Hire Live Music for your Wedding?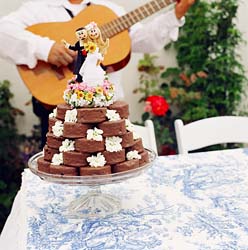 Hiring a live singer or band for your wedding is probably going to be part of your wedding planning process. After all, who doesn't like some good live music? Live music at weddings has long been part of the wedding tradition. You may know of a band through word of mouth, your social circle, your family, or perhaps a local or online service. No matter how you find out about live music for your wedding, you're probably going to wonder how much you should pay the musician(s).
The answer is that there is no set answer. For instance, if you want to figure out a way to hire a relatively famous singer for your wedding, you can expect to be paying upwards of $20,000 for the night. If you're hiring talented musicians who are not famous, however, the going rate usually starts around $200.
There are some things you should consider when hiring live music:
-How long will the music last?
-When can the musicians take breaks?
-What are the dimensions of the stage?
-What kind of equipment is already at the venue?
-Which songs would you definitely like to hear?
-How would you like the musicians to dress?
-Is there anything you'd like for them to avoid? (ie, drinking, cursing)
-Will the musicians receive dinner with everyone else?
-Can you afford to tip the musicians?
-Can you provide any guarantee in case something happens to their equipment?
These are just a few things to consider. At the end of the day, live music is fun and it shouldn't stress you out. Have fun and be generous with the musicians! It's difficult for musicians to make steady money in a lot of cases...keep that in mind!