5 Tips for the Wedding Rehearsal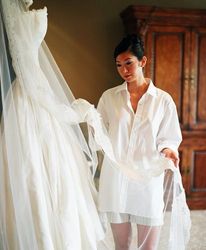 The key to any great wedding often seems to be a well executed wedding rehearsal. If you're considering skipping your wedding rehearsal, I would certainly advise against this. Rehearsals help to put everything in place for the ceremony and loosen a lot of nerves that the participants may be having.
If you're planning your wedding rehearsal, you probably have a few questions.

Here are some tips:

1. Only invite your immediate family and the participants to the wedding rehearsal. The wedding ceremony should be kept sacred for everyone else who will be attending.

2. Don't freak out. If something doesn't go the way you want it to during the rehearsal, assume that it will be as go more smoothly during the actual ceremony. Hey, that's the reason for having a rehearsal, to identify things that need to be polished!

3. Keep your focus. The whole point of the wedding is to celebrate your love for your partner. Don't let the details distract you too much.

4. Socialize. Your wedding rehearsal is a great way to socialize with your closest family members. You may not have much chance to talk to them as in as much depth on the day of the actual ceremony.

5. Don't act too crazy! Don't jeopardize the things you have worked hard on, your appearance, your car, etc. for the sake of having a crazy wedding rehearsal. Keep it calm and collected and go all out after the actual wedding.