Tips for Choosing Affordable Wedding Favors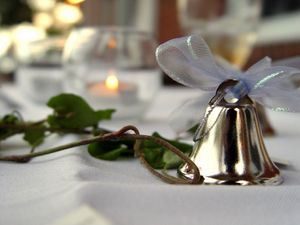 Wedding favors are an interesting component to the wedding. Traditionally, they are a part of the reception and paid for by the bride's family. However, these rules don't always apply. It's not unheard of for both parents to split the cost of the wedding 50/50, and this includes the cost of any wedding favors given out.
Regardless of who is paying for the favors, budgeting is important. Favors should be considered as part of the entire wedding budget, not something separate.
Think you don't have enough money to budget out wedding favors? Then don't. Wedding favors are absolutely optional and I have been to a handful of weddings that didn't include them-and it didn't even occur to me.
If you're on a tight budget, consider handmade items as favors if you're dead-set on having them. Items that can be cheaply made by hand can be more charming than most other wedding favors. Handmade soaps, potpourri, and candles can all suffice as wedding favors and work especially well if wrapped in a sheer cloth that matches the theme color of the wedding.
The most important thing to consider: Money should not be blown on wedding favors unless there is a surplus of money. The bride and groom as well as the guests will appreciate the wedding experience much more so if the money is spent on a good DJ or delicious food, for instance.