What to Include in your Cake Vendor Contract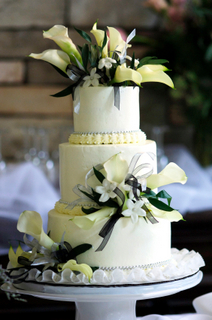 When planning a wedding, things would be a whole lot easier if you could just trust everyone involved in the wedding planning for their word. Unfortunately, I think we all know that trusting people can't always be this simple. When you're making contracts with your wedding vendor for your cake, it is essential that you make sure your contracts are put together well enough to save you trouble in the future.
Your cake vendor contract you make should include the following:
1. Deposit amount and due date.
2. Date, time, and location of your reception.
3. Your names and the name of the baker.
4. Payment balance amount and due date.
5. Compensation for no-show or cancellation by baker.
6. Requirements for cancellation by bride and groom.
7. Style of cake and number of tiers.
8. Flavors of cake layers, fillings, and icing.
9. Cake design and colors to be used.
10. Whether the cake will be delivered or picked up at the bakery.
11. Any special decorations.
12. If delivered, compensation for damage to cake during transport.
13. If picked up, a description of how the cake will be packaged.