5 Styles Your Bridesmaids Will Love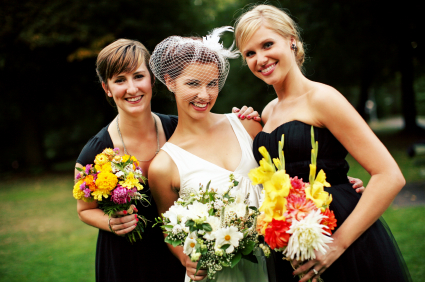 Strapless gowns and bridesmaid dresses are made for modern glamour. But this season's fashion-forward wedding styles offer many alluring options full of grand impact.
Deep V drama
Whether you're winging off to a destination wedding our getting ready for a traditional church affair, a plunging V-neckline is a flattering alternative to the classic strapless gown. A great option for women with rounder faces, the plunging V-neckline elongates your look -- a big plus for photos -- and adds a sense of sophisticated urban drama.
The haute halter
Halter-styled necklines are superb choices for women who have beautiful shoulders and fit, toned arms. Think First Lady Michelle Obama and you'll understand the impact a look like this can have when all eyes are on you.
Get waisted
This season's new waistline details add fresh visual interest to gowns and bridesmaid dresses. From Empire cuts that feature sleek, delicate belts to well-defined pleats that gather snugly at a natural waistline, these alternatives put the focus on modern femininity.
Bling is in
Beautiful beading is a new basic for Spring/Summer 2009. Whether these details are delicately incorporated on straps, necklines, waistlines or points of interest on the back, they accent this season's simple, elegant fashion picks in must-have fabrics such as silk chiffon or georgette.