Tiara Tales: Haute Bridal Hair Accessories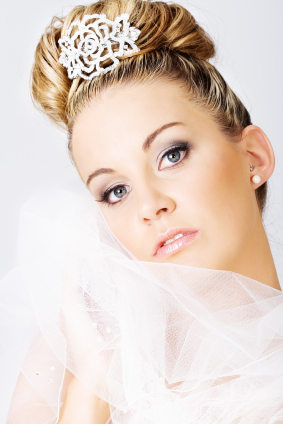 Modern brides always make a statement, even with the hair accessories they choose for their wedding day. Tiaras and veils, decorative pins and head bands... No matter how you adorn your crowning glory today's hottest bridal hair accessories are full of show-stopping style.

Uptown tiaras

The tiara is the perfect accessory for brides who want to be "princess for a day." Clean and simple in design, today's best picks are elegantly embellished with crystals, pearls and precious stones. Try on several different styles and sizes to find the perfect fit. Once you decide bring it to your hairdresser. Together you can plan the best way to marry your tiara with your bridal hairstyle.



Bando chic

Celebrities like Nicole Richie and Mischa Barton have made the modern headband an accessory must-have for loose, Rapunzel-like tresses. Go simple and sophisticated. Try an ornate pick decorated with gems and pearls. Whatever you choose the modern bando can instantly infuse a simple hairstyle with bridal day drama.



Adorn with combs

Versatile and easy to wear, contemporary hair combs come in all sizes, styles and finishes. Simple, clean-lined designs work for any bride, whatever their hairstyle. More ornate options add that "Wow!" factor as you walk down the aisle.



Haute hair pins

Embellished with crystals, butterflies and rosebuds, hair pins can accentuate the flavor of any bridal look. Go vintage to accent a '20s-inspired gown, or sleek and simple for more contemporary wedding dresses. Whatever your choice this little hair detail adds loads of wedding day style.