How to Pick a Flattering Bridesmaid Dress for your Bridal Party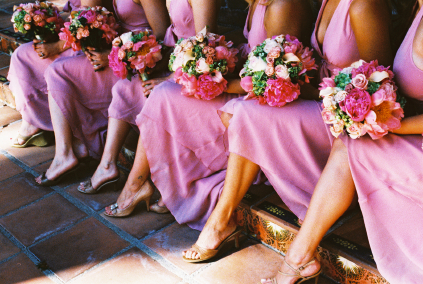 Brides and bridesmaids have many new trends to choose from for a sophisticated summer wedding.
From sheath dresses to pale pastels and luminescent chiffons, elegant simplicity is the key to helping your bridesmaids to a head-turning walk down the aisle.
The A-line dress
A flattering option on many different body shapes, today's hottest A-line styles come in two-tone, two-piece dresses that feature a strapless bodice or spaghetti straps.
The column-style dress is another popular pick. Look for sleeveless, floor-length styles with halter tops and straps crossing over the back.
Ace accents
Sashes, thin belts and small bows at the waist and midriff are a huge new trend in bridesmaid dresses. The overall look is one of simple, streamlined elegance with a touch of flirty femininity.
Color story
Soft, feminine pastel shades in yellow, lavender, powder blue, soft pink and pale green are hot picks this summer. Sherbet colors such as coral, lime and tangerine, as well as electric blue and fuchsia also make strong style statements.
New fabrics
Blending easy comfort with all-out glam, today's best bridesmaid dress fabrics include iridescent organza and taffeta, silk, luminescent chiffon and European satin.
Combo couture
A popular new trend this season is to let each bridesmaid wear a different color of the same dress. Traditional rules are loosening up. Yet certain standards still apply. For example, don't select bridesmaid dresses in heavy materials for a summer wedding or outdoor ceremony.