Pick the Perfect Destination Wedding Dress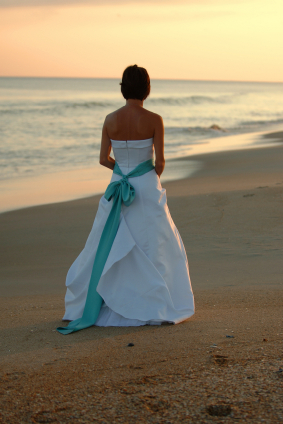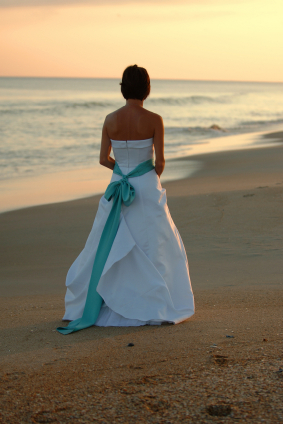 A faraway vineyard in Italy, a French chateau, a sunny beach in Jamaica... Couples have the world to choose from for the destination wedding of their dreams. But before you say "I do" on some distant shore consider these key tips. They'll make any destination affair unforgettable.
Location, location
Whatever the destination, the style of your dress will clearly be dictated by the location's climate. Give some thought to the kind of weather -- winds, storms, humidity -- that could crop up at various times throughout the year. Remember, a wedding in the Bahamas will require a different dress than one taking place atop New York's Plaza. Determine where you'll walk down the aisle, then zero in on the details that will make your destination dream dress come to life.

Fab fabrics

Comfort is key in choosing a destination gown. Dresses with soft, stretch fabrics and double linings are perfect picks for beach weddings.

How well the fabric will bear up under travel is another important consideration. Lightweight fabrics with stretch such as charmeuse or lace travel very well. Minimal beading, embroidery and other embellishments also cut down on creasing and unnecessary bulk when packing.

Style file

Princess gowns with big crinoline skirts are great for cathedral weddings. But the ideal destination wedding dress should have a sleek, refined silhouette. Try an A-line skirt or sweep train. Experiment with different lengths and hemlines. From cocktail-length gowns to skirts that are shorter in front and longer in back, these playful picks work beautifully when a wedding location is less formal.

Transporting your dress

Every bride who wings it to a destination wedding must make one critical decision: Do I ship my dress ahead of time or carry it on board?

Sending the dress beforehand saves you from dragging it onto a plane. Carrying the dress with you gives peace of mind. It also allows you to unpack it immediately.

A wedding gown that is transported as a carry-on will usually need a separate bag of its own. Also, check ahead with your airline. It may require the dress to be checked in with your luggage.