Busting out: Smart Strategies for Busty Brides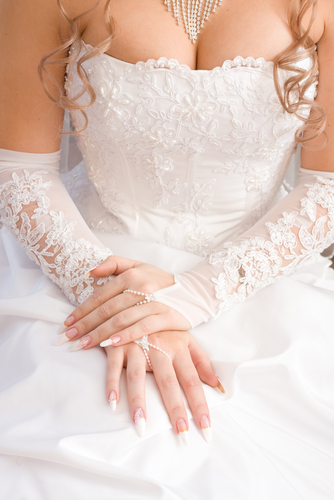 Brides and bridesmaids with ample chests will enjoy this season's new styles of figure-boosting wedding day options.
Fall's message is simple: With a few strategic fashion tips figure flaws fade away and your natural assets will shine.
Low rider
Sexy, halter styles are strong picks for Fall 09. Available in lace, silk and satin styles with various beading and embellishments, the key to making this style work for you lies in good, solid, wide straps. Big chests need good support. Without it, that beautiful definition between the bustline and waistline is visually lost.
Corset caper
The fitted corset is a wonderful tool to keep an ample cleavage under control. Look for an A-line style of gown that will fit snugly in the torso. Fabric embellishments will add interest and move eyes away from problem areas. Also, styles that feature well-made banding and pleating will help create a longer, leaner looking silhouette.
Show some skin
Many women think that covering a big chest completely in fabric will minimize it. Not so.
Covering an ample chest with too much fabric will only accent bust size.
Choose V-necks or sweetheart necklines that beautifully shape the bust and frame the face. These smart, sophisticated options will show you and your fabulous curves to their best advantage.