Unique Marriage Proposal Ideas for You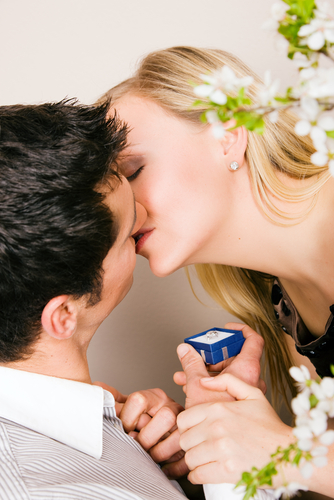 In honor of One Wed's Matrimony Monday which highlights that fact that this time of year is THE time to get engaged, I have rounded up some great proposal ideas. Whether it's you popping the question or dropping subtle or, um, not-so-subtle hints to your partner about how you'd like to be asked, The Knot has highlighted 50 romantic ways to propose to help you along - 50! One of these ideas is sure to get you inspired. I've listed some highlights here. Choose carefully and have fun!
Take out a full-page ad in a newspaper you know your girlfriend reads daily.
Arrange a surprise proposal with a street caricaturist. Have him sketch a picture of you two with word bubbles. Yours will read, "Will you Marry Me?", and hers will say, "Yes!"
Pay the divers at an aquarium to put on a proposal show inside their biggest fish tank. Give them handwritten signs that say "Will You Marry Me?" to hold up against the glass.
Send your girlfriend on a treasure hunt. Start with a clue at home, then send her on a tour of your favorite spots all over town. When she gets to the last hint, the prize should be you on one knee.
Create your own podcast proposal and sneak it onto her iPod.
Upload a video of your proposal on YouTube-tell her you have a hysterical home movie to show her.
Want to really surprise your partner? Cut out the bottom of a huge box, wrap it with pretty paper and ribbon, attach a card that says, "What's inside the box is a gift to last a lifetime." "Deliver" yourself to his or her office or front door.
If you're artistically inclined or just like to make things with your own two hands, integrate something you've made into the proposal. For example, if you have woodworking skills, present the ring in a special hand-carved jewelry box.
Buy a pet that s/he has always wanted and loosely tie the ring around its neck. Or, substitute a stuffed animal - still cute, but less maintenance!
Were you proposed to in a unique and romantic way? Comment here and tell us about it!