9 Affordable Bridesmaids Gifts Your Friends Are Dreaming Of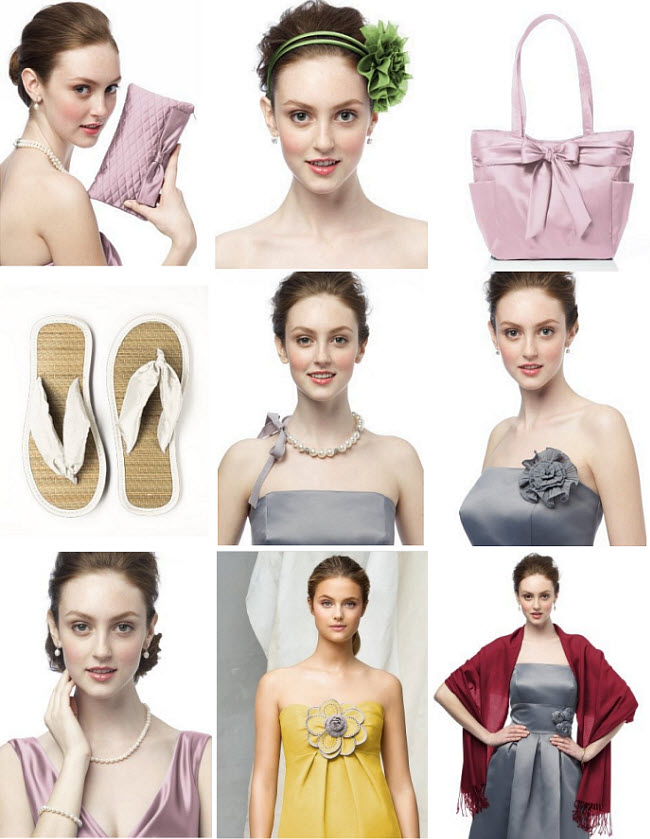 Your best friends, the ladies in your life, your own Carrie, Samantha, Charlotte and Miranda - you never take them for granted and your wedding is the perfect time to remind them of that. As your bridesmaids, your best girlfriends show you time and time again how much they are there for you. Through the fittings, the planning, the bridal shower and crazy bachelorette party antics, they've helped to make your big day and all the gearing up for it loads of fun filled with laughter. Now, it's your turn to thank them. Give them gifts from the heart that they can keep forever to remind them of your friendship.
Items pictured: quilted clutch in matte satin, chiffon flower, matte satin tote, pearl and rhinestone ribbon necklace, fortuny pleated nu-georgette flower, pearl bracelet, necklace & earrings, pashmina shawls
Here at The Dessy Group we have a lovely array of gift choices for your bridesmaids that are sure to be keepsakes long past your wedding day. Some of my ultimate favorites are the quilted clutches in matte satin in all the colors under the rainbow, and pashmina shawls so versatile they'll have never ending options to style up their wardrobe.
Having a beach wedding? Flip flops in your choice of colors will give your bridesmaids easy dancing feet not to mention great style. Another great beach accessory is the matte satin tote bag - perfect to carry the extra shoes, shawls, make up and all the extra necessities.
And what woman doesn't love beautiful jewelery? From a unique pearl and rhinestone ribbon necklace to a matching pearl bracelet, necklace and earrings - style will be theirs. Another must have this Spring and Summer seasons is the fashion flower. From the chiffon to the fortuny pleated nu-georgette, adding fabric flowers to your dresses, sweaters and headbands is all the rage from the wedding day and beyond.
Finding gifts you know your best friends will love and treasure for years to come - giving never felt so good. Round the ladies up for a night of cosmos, thanking and gift giving and let the fun times continue!