Retro Wedding Dress Style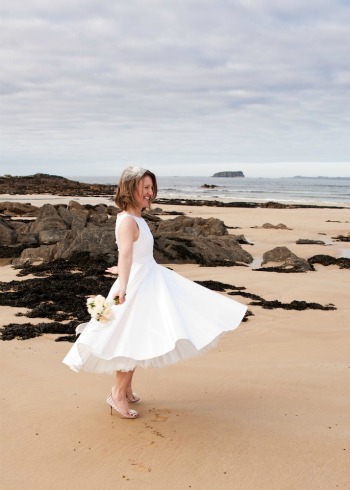 I've had a bit of a vintage retro theme going on these past few days.
So today I thought I'd finish up with this retro-style wedding dress chosen by Lynne for her wedding day. With the bridal gown's full skirt and net petticoat, this dress gives more than a nod to a previous era.
Just think of the elegance of dressing like a lady - down to your gloves and hat. (I think Lynne's hair accessory was just perfect - see our blog post on a DIY birdcage wedding veil.)
Lynne's dress wouldn't look out of place in a period drama like Mad Men. Check Candy Anthony or June Bridals for similar wedding gowns. Or if you want something full skirted but not quite so retro in feel, our Alfred Sung line has some great retro-inspired dresses:
Lynne's photograph was taken on the beach in County Donegal, Ireland by Brideen Baxter, a photographer who I think has a knack for picking out detail and creating a mood. Love the jeweled detail on the shoulder of the wedding dress and the simplicity of Lynne's white wedding bouquet flowers. Thanks to Lynne and Michael for sharing their wedding day with us!