Ideas & Inspiration for Styling your Bridesmaids
I've been considering bridesmaid dresses.
Mostly I was thinking about Pippa Middleton's glorious satin column sheath dress at the Royal Wedding.
Kate Middleton (now the Duchess of Cambridge) stepped away from tradition to dress her chief bridesmaid in cream - but some rules are made to be broken and I thought the resulting effect was classy and elegant.
It made me think that you should really think creatively about how you dress your maids. Shake things up a little.
You don't have to go for a block colour for everyone. Mix up dusky pink bridesmaid dresses with fuchsia - like in the photograph shown above (via Project Wedding).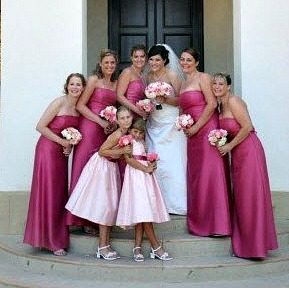 Dress your younger bridesmaids in a paler version of the grown-ups' dress shade. (What little girl doesn't love pale pink?)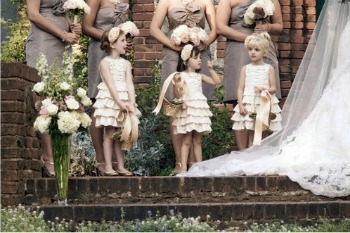 Or put your young flower girls in a contrasting shade to your girlfriends and let the elder ones wear a more sophisticated colour (like the mocha cocktail dresses shown here).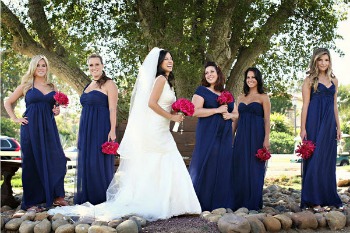 Go for a single shade - say midnight blue bridesmaid frocks like these - but let your ladies choose their own styles (halter neck, sweetheart, strapless), as this bride has done here.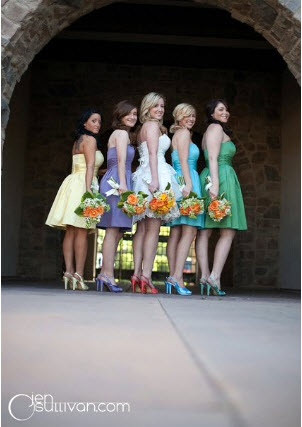 Choose one colour for each bridesmaid - yellow, green, red or blue. Then match the dress, shoes and bouquet.
Or choose a single colour for your maids - like this delicate lilac - but let the dress style mirror the bride's, as with these strapless frocks here.
These photographs illustrate what I mean perfectly and should give you some inspiration. (If you haven't started your wedding moodboard yet, then this really is the perfect time to start gathering your thoughts together.)
Dessy has bridesmaid dresses in a rainbow of colours, both cocktail style and long, with a great choice of necklines too.
Photo Credits (from top): Project Wedding Kimberlee Miller (via Project Wedding); Jen Stewart Photography;Jasmine Star Photography (via Project Wedding); Jen O'Sullivan Photography (via Wedding Ideas magazine); Richard Wood Photographics (via Project Wedding).