Wedding Inspiration: Four Ideas for you
I think I'm a bit of a wedding magpie really. Keeping my eyes open for lots of shiny and interesting stuff to show you for inspiration. So this wedding zoomed straight into my line of sight. Why? Because it is bursting with ideas for you to think about. (Via the Knotty Bride.)
Firstly, the bride is holding a completely gorgeous brooch wedding bouquet - a real heirloom with sparkle.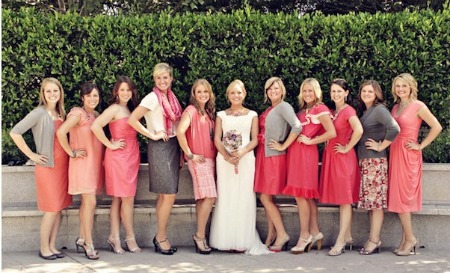 Also - this is fast becoming a trend and rightly so. Mismatched bridesmaids dresses - but with a common wedding colour theme. LOVE. So will your girls. Because they get to wear a bridesmaid dress they like in a style they feel confident suits them.
These coral cocktail bridemaid frocks are chic AND pretty. And doesn't everyone look happy and confident?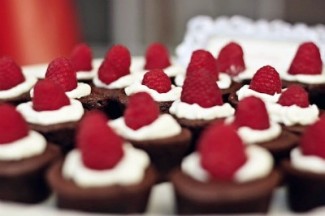 Perfect DIY dessert idea. Chocolate brownies with a dob of whipped cream and a pink raspberry. How easy would it be to do something similar if you were having a handmade wedding?
Also the clever bride organised a 'toss bouquet' so she could keep up with tradition. And she's got her beautiful heirloom bouquet tucked away for the future.