Idea for DIY Wedding Food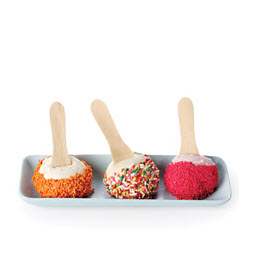 I love mini food at parties, especially wedding receptions.
Here's a quick little idea today for DIY wedding food which I discovered via Martha Stewart Living.
Instead of putting out ice cream in bowls for your guests, create these cute little ice creams on a stick. A bit like canapés - but a sweet version.
Using a small ice cream scoop, spoon out balls of ice cream onto a baking sheet lined with baking parchment. Put a wooden spatula into each ball and then freeze.
When hardened roll the scoops in hundreds and thousands, chocolate chips, coconut - or whatever takes your fancy.
Store in the freezer on the baking sheet until you're ready to bring them out.
Recipe and photograph via Martha Stewart Living.