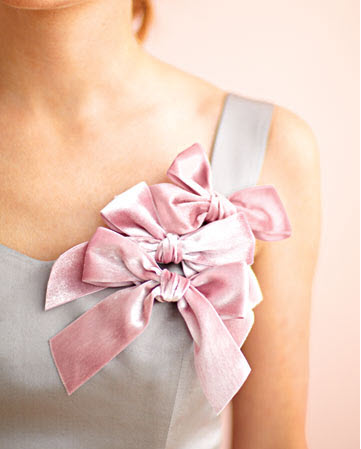 Knowing how to tie a ribbon bow perfectly is a handy skill to have.
Particularly if you're planning on creating a lot of your own wedding decorations.
Bows are so versatile
You can use them as a pretty corsage to liven up a plain bridesmaid dress, as in the picture above (via Martha Stewart Weddings).
Use striped ribbon to jazz up simple favours, transforming something inexpensive and homemade into a chic, classy offering.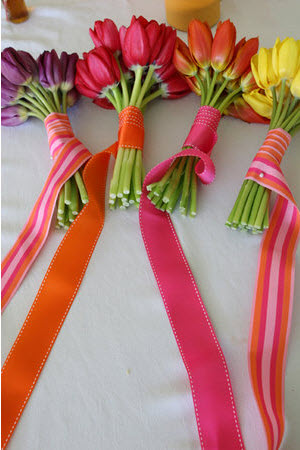 You can also use bows to liven up chairbacks and as pew decorations. Or for simple hand-tied informal bridesmaid bouquets.
You'll need different widths of ribbon for different sorts of bows. VV Rouleaux is a great place to start looking, offering taffeta, satin, velvet and gingham ribbons in every colour and shade you could want.
Here are the Martha Stewart instructions on how to tie a perfect bow.
Photo credits. Top image via Martha Stewart Weddings; tulips with colourful ribbons by Project Wedding, photography by flowerbud.com