Introducing the Pantone Wedding™ Chiplette and Fan Guide

Dessy Group is pleased to introduce the Pantone Wedding™ Chiplette - a new and cost effective way for brides to select and communicate wedding colors. The Pantone Chiplette provides an easy alternative to mix and match colors, while planning the many aspects of a wedding.
The new Wedding Chiplettes allow you to find the perfect color palette for your dream wedding. Each 4" x 1.75" Pantone Wedding™ Chiplette is a full color card with the Pantone TPX reference number. A QR code is printed on the back of each chiplette, which which can be scanned to return a mobile user to the Dessy.com site. You can then share your color choices with the wedding party and distribute them to wedding florists, caterers, bakers and invitation printers ... whoever needs to know your wedding colors.
Chiplettes are manufactured by Pantone using a proprietary six color print process. Easily affordable, you can explore a variety of color options and experiment during your wedding planning process. Once you select your palette, you may return to purchase more chiplettes in your colors to distribute to wedding attendants and suppliers, thus ensuring your wedding colors are flawlessly coordinated.
On the back of each chiplette is a place to put your contact information serving as a 'color business card'.
Dessy has also released its exclusive Pantone Color Fan Guide containing the entire range of 180+ Pantone Wedding™ colors in the current Dessy collections. Chromatically arranged by color family, each color in the color-on-paper fan deck is numerically referenced and named to assist quick color decisions.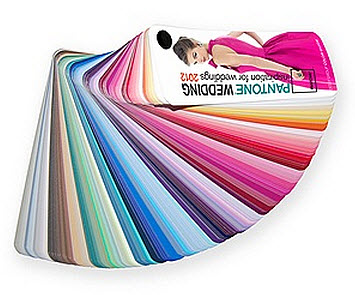 With the PANTONE WEDDING™ color tools, you can create a custom color palette in a manageable and creative way!