How to make tissue paper pom poms
Tissue paper pom poms are fun and easy to make and look really effective when used as decorations for wedding receptions or interiors. Today's guest blog is by Gail at seventyoneseventyone Design who gives full instructions on how you can make these inexpensive DIY wedding decorations.

Instructions for making tissue paper pom poms

You will need:

Tissue paper (in any colour you choose) , florists wire, string, scissors.

You need eight sheets of tissue paper to make a pom pom. You can make them any size. In this demonstration I have used four large sheets of tissue and cut them in half.





Start by making a fold in the tissue about an inch deep; then fold the tissue paper backwards and forwards in a concertina shape. You will end up with a folded strip. Fold the strip in half to find the centre and tie your wire around the centre to secure. Also tie some cotton or string around the centre to hang your finished pom pom.




Cut the ends of the tissue in a rounded shape or cut off to a point for a different look.





Then carefully start separating the layers of tissue to form your pom pom shape.





Fluff your pom pom up to get a nice rounded shape.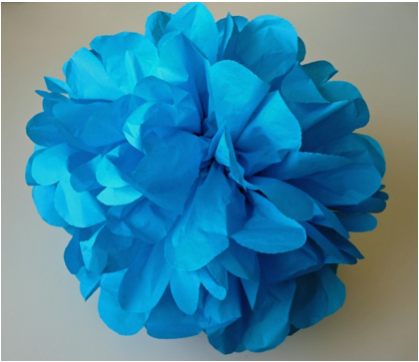 That's it. You can now hang your gorgeous pom poms and be the envy of all who visit.

Thanks Gail for this great idea!