Now, a black wedding dress may not have been something you would ever have considered. After all, you're not planning on having a Goth wedding or anything.
But in some cases, a black wedding dress would make an awful lot of sense.
You might be getting married for the second time around and want something completely different from your first wedding.
You might just not suit white, ivory or any other type of pastel thing.
You might be wanting to have an Audrey Hepburn moment at your register office ceremony.
Well good for you. You don't have to follow the traditional white wedding crowd. After all it's your big day and you need to plan it just the way you want it. You might raise some eyebrows amongst the traditionalists of your guests but actually, they should remember that white wedding dresses only came into fashion when Queen Victoria wore a white wedding dress in the 19th Century and then only were worn by the aristocracy. In fact Jane Austen's mother wore a red riding habit to her wedding (what a fabulous idea). And during the Second World War and rationing, brides considered it their duty to forget about a traditional wedding dress - although they might be able to borrow a pre-war white number from a friend or relative.
I asked Ellie Sanderson, who runs two successful bridal boutiques in Oxfordshire and Buckinghamshire, what she thought about black wedding dresses and although she doesn't sell them, here's what she had to say:
"Black is always a striking alternative for some brides, perhaps girls favouring an evening reception with the groom in black tie. I also love it with ivory accessories like pearls. Brides choosing this untraditional and way out look could also contrast and soften it with all their bridesmaids in the palest of pink or ivory €" just fabulous. Take care though, as black with red is not great. This hip and slightly buck the trend look is gaining momentum so never say never!€
What about you? Are you going the traditional route or do you fancy something colourful and dramatic?
Some Black Wedding Dress Inspiration
I've looked at some of the black wedding dresses that are around and here are a few that have caught my eye.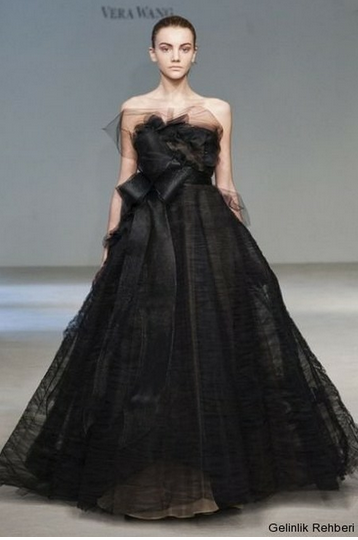 Vera Wang sent a model down the runway in a stunning black wedding dress with a beautiful bow at the waist. Completely beautiful.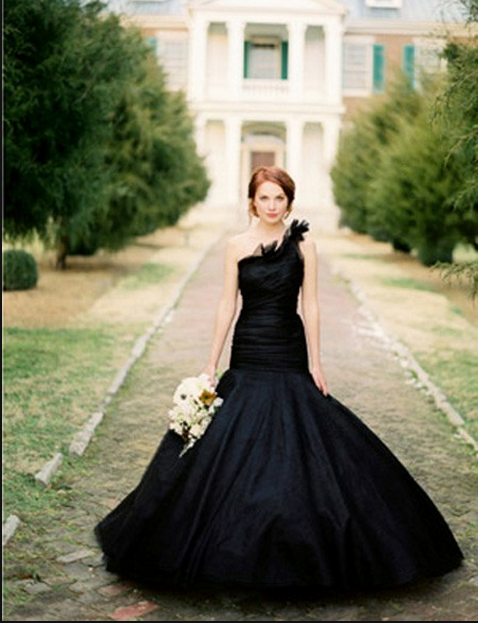 Another black wedding dress by Vera Wang.
Sheath style black wedding dress by Amy Kuschel