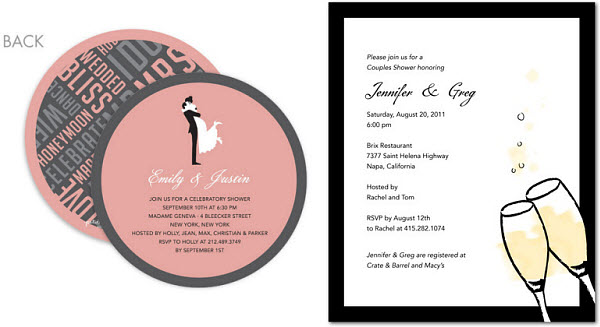 As men have become more and more involved in the wedding planning process (yaay for the modern groom!), a trend has been emerging – the couples shower. No longer are the pre-wedding festivities reserved for the girls only. The guys want to be part of the fun too. And why not? You'll be celebrating together for years to come, and a couple's shower is a great way to kick off your almost wedded bliss!

Beyond being great for the bride and groom, a couples shower is great for those who share a group of mutual friends who want to celebrate together. And there's no need to be formal. Couples showers can be held at your favorite restaurant or bar or even at a friend's house for brunch.

Here are a few couples shower ideas to get you thinking:

Wine Tasting: Have a big selection of wines available, or better yet have each guest bring their favorite bottle. Supply a lot of bite sized goodies including a delicious cheese plate of course. And chocolate, don't forget the chocolate.

Coffee & Donuts: Have as many different donuts as you can dream of. Provide a side table of toppings such as colorful sprinkles, hot fudge, caramel and marshmallows to make them even more decadent. As for the caffeine fix, serve a variety from lattes to espresso.

Make it a BBQ: Go all out and cook yourself, or hire a food truck to supply the yummy goods. All you need to do is find a good park, provide refreshments and some outdoor games.

Champagne Brunch: Whether out at your favorite restaurant or at your parent's house, this is always a winner. Supply plenty of brunch time staples like omelets, muffins and scones, pancakes, bacon, cheeses and of course the cocktails.

ENJOY!