The Many Pros of a Virtual Wedding Planner
A wedding planner can take crucial money away from your tight budget and it can be hard to trust their opinions to be without bias or incentive. With new wedding website WeddingLovely, there's no need to waste money or wonder€¦ This innovative website will be your best friend, planner and principle organizer all in one!



WeddingLovely walks couples through planning their wedding through their inbox, with advice, information, and vendor recommendations tailored for every couple's budget, location, style, and wedding date. A wedding day countdown helps to keep you on track and easy tabs like venue, budget, wedding party, dress, catering and officiant make your most important details accessible with one click.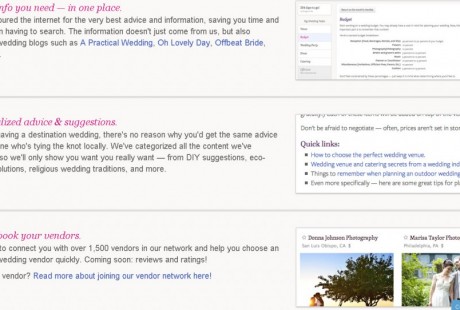 Timely emails remind couples of important dates (like, at the six month mark it's time to find invitations!), provide articles and information about that task to help them understand, and then recommend tailored services, products, and wedding vendors. The outcome is personalized planning at a fraction of the price.

The wedding website has a 14-day free trial, so if you don't love it you can leave it€¦ but we doubt that you'll be giving up this comprehensive service. Check out the website here: