Who Doesn't Love Carats & Cakes? Now It Is a Clever Wedding Website You Will Fall in Love With!
There is a new wedding website that's shaking up the way you peruse whimsical weddings for inspiration and a quick education.



New York City-based startup Carats & Cakes was started by CEO Jess Levin to create a knowledge-sharing destination where users can view a variety of wedding day albums from all over. Featured galleries include tags for things like shoes, dresses, food, florist, jewelry and venues that are easily searchable. So, if you're only concerned with making your feet look good n' fancy, don't worry, you don't have to click through hundreds of hors d'oeuvres  to find the shoe shot you're searching for. The site also uses an algorithm to highlight popular vendors, photos and other details.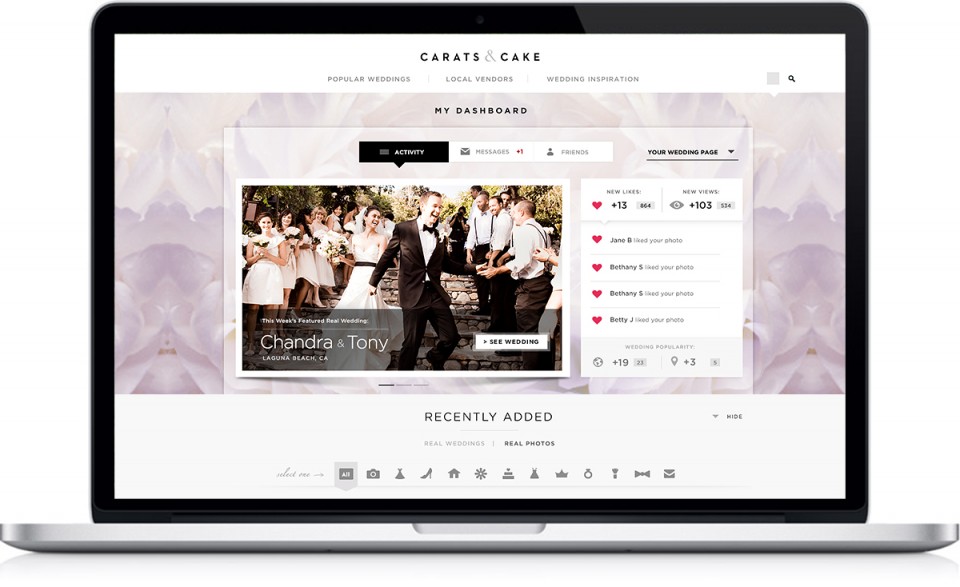 Newlyweds can create Wedding Pages to share moments from their dream weddings.  The website is reliant on newly married brides uploading their professional images and providing vendor information to share with those happily engaged brides and grooms who are struggling to make the tough decisions. This dependency shouldn't be a problem for the chic page as getting a feature on your Big Day has become somewhat of a phenomenon within the industry... Precisely why we love Carats & Cakes is that the site removes the exclusivity of some wedding websites that sift through hundreds of weddings to post as little as two-a-day! It's open to any bride (or groom) who wants to share their special day with the rest of the world!

For more on the concept, check out their feature in Mashable here: http://mashable.com/2012/11/01/carats-and-cake/

Visit the site here: http://www.caratsandcake.com/