Bridesmaids Gifts That Sparkle
Buying your maids a special gift for attending you on your big day is a lovely thing to do.
After all they're there to hold your hand when you're nervous, teary, overwhelmed and dare I say it, when you're a bit grumpy and maybe having a pre-wedding meltdown.
But What Should You Give Bridesmaids As A Gift?
Well, it's up to you. It might be a pair of pearl earrings for them to wear on the day. A bouquet. Something that shows them how special they are to you.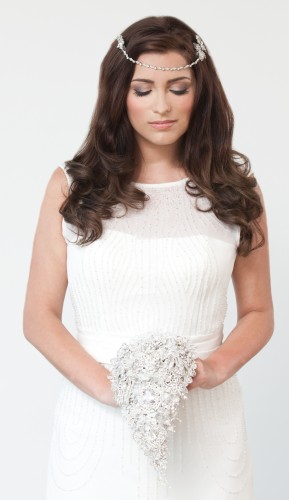 Now I was just looking at these beautiful heirloom bouquets designed by jewellery designer Debbie Carlisle - which you can buy online - and I thought what a lovely bridesmaid gift they'd be. (By the way we featured Debbie's wedding a while back with a jewelled bouquet she designed herself!)

They won't fade, they make a beautiful decoration for the home and they are a wonderful keepsake of your big day.

In addition, your maids can hold them whilst they attend you and look literally dazzling! Created from Swarovski crystal by Crystal Bridal Accessories, they feature Debbie's own teardrop shape design.

I think they'd be perfect for a winter evening wedding - stunning against a bridesmaid or evening dress... what do you think?

All images via Debbie Carlisle.