Fancy Creating Your Own Professional-Looking Wedding Cupcakes ?
Discover the secrets of the professionals!
What kind of a bride to be are you? Are you a hands-on kind of a girl who's keen to diy as much of her wedding day as possible? Put her own stamp on her special day and make it uniquely personal?
If that sounds like you, then you really should be considering making - or at least icing - your own wedding cupcakes.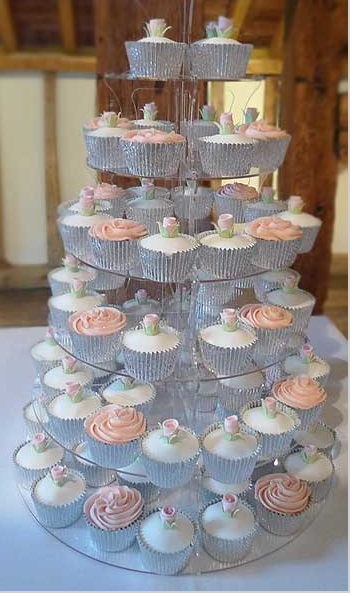 How To Make Wedding Cupcakes
The really, really good thing about cupcakes is that they never need to be decorated in the same way. It all depends on how imaginative you are.
Having a hot pink wedding theme? Then having cupcakes to match with pink accents is a cinch.
Celebrating your wedding on a cold December day? Well, then it's pale icing, whites, silver and sparkles. But in any case it's up to you.
A good place to get inspiration for decorating your own wedding cupcakes is via Pinterest - it's deliciously full of ideas to drool over ...
But I Don't Know How To Ice Cupcakes!
Then it's time to learn a skill that you can keep until long after your wedding day. Knowing how to ice cakes that look highly professional will be a useful talent you'll enjoy using.
There are plenty of courses out there. I was sent details of cake decorating courses run by Genuine Cakes which seem really comprehensive. Based just outside London, they will pass many of their professional skills onto you during a day course - which might be fun to attend with some like-minded girlfriends.
If it's cupcakes you're interested in, check out the Ultimate Cupcakes course during which you learn how to create beautifully hand decorated cupcakes using sugarpaste and buttercream icing. You're taught all the tehniques you need to make your own creations incorporating piping, moulds and cutters. Prices start at £70 per person and classes are suitable for beginners/intermediates.
Alternatively you could discover how to professionally ice a celebration cake (not just for weddings, but for birthdays, anniversaries, retirements ...) in which case you should look at the Introduction to Cake Decorating Course. Other new classes in the pipe line include decorating a 3-tier wedding cake (how impressive would that be) and a giant cupcake class.
Everybody seems to like baking these days - and if you loved the Great British Bake Off and fancy some professional instruction, then learning to ice your own cupcakes professionally is a skill you really should have!
All photography via Genuine Cakes