Two Wedding Day Looks, One Tuxedo Vest
You want your wedding day to be all things.

Formal and serious at the right moments, informal at others.

Maybe you want the bridegroom, best man and ushers to dress a little more sombrely at the wedding ceremony itself, in darker hues.

But when it's time to celebrate at the reception, then it's time to add a splash of colour.

Which is exactly where the After Six Reversible Tuxedo Vest from Dessy comes in.

How to describe it? Multi-tasking, practical, elegant ... and working a look.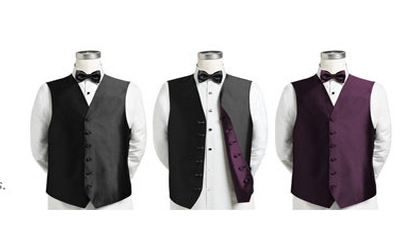 The reversible tuxedo vest (or waistcoat as the Brits call it) is available in all the popular Dessy colours and you can find a stockist near you by simply filling in your post code.
You're going to love the thoughtful details
The full back design gives a tailored look. Buttons work either side and the care label is carefully hidden, whichever way around you wear the waistcoat.

It's just perfect for weddings, but will see the wearer through black tie events and formal dinners for many years to come. So it's not just for the wedding day, it's too useful for that.

Take a look at the Dessy reversible tuxedo vests - and work that wedding colour theme to the max.