How to Choose the Perfect Shoes to Walk Down the Aisle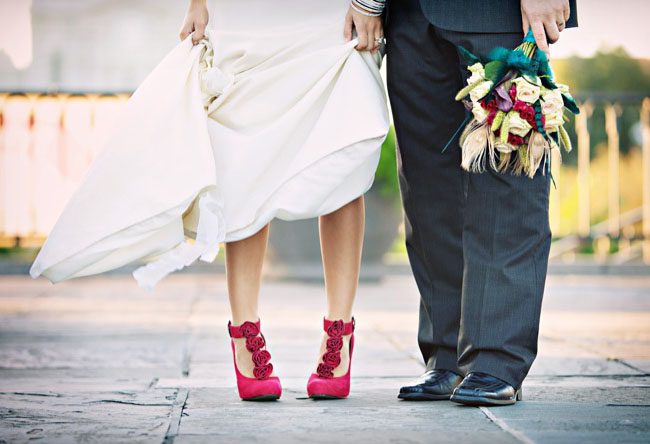 For the most important walk of your life, it's imperative to make sure your tootsies are ready for the trot. Picking out the perfect pair of wedding shoes can be time consuming and tricky. It's an opportunity to ixnay tradition and have some fun with your wedding day look. But the question is, where is the best place to begin your search for the perfect pair of pumps (or flats, or sandals, etc…)?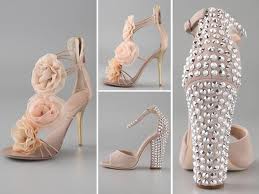 Milkandhoneyshoes.com is a creative and fun place to start your tootsie trip. The website has two shop options – "Shop Now" or "Design Your Own." The premise is pretty self-explanatory and it allows brides to find a wedding day option that has all the ingredients for a new pair of sole supporters. Customizable options include style (there are twelve to choose from), fabrication, add-ons – like ankle straps, t-straps or dorsay backs, heel width and height, and more.
Figgie Shoes is another of-the-moment bridal shoe destination. The website touts its status as 'the world's preeminent purveyor of custom hand-painted shoes.' With Figgie Shoes the outcome is not only a stylish pair of sole slippers, but a customized piece of artwork you can enjoy for years to come.
The bottom line for bridal shoe shopping is… anything goes and anything can go. If you can dream it – you can achieve it!
A new pair of Christian Louboutins - $600 +. Milk and Honey Custom Designed Shoes - $225 +. Figgie Shoes - 200 +. Dreaming up your own pair of wedding kicks, designing them and walking down the isle in a one-of-a-kind creation? Priceless.
Of course, we also suggest that you take a peek at Dessy's wedding shoes. There might be a pair in there that's you love!