Bridal Hairstyles For A Destination Wedding
So you've decided to go the non-traditional route and you're getting married on a white sandy beach under the bluest of blue skies, with palm trees up above and an azure sea stretching out on the horizon.
What Works For A Destination Wedding?
When you decide to get married somewhere hot and tropical, you need to rethink your ideas about what you're going to wear and how you're going to look.

You're going to probably want to wear your hair up off your neck so that you can stay cool. Or maybe in a messy half-up, half-down do. Our advice would be not to have a bridal hairstyle that's too elaborate - you want your updo to be able to cope with sea breezes and a formal French pleat will just look out of place.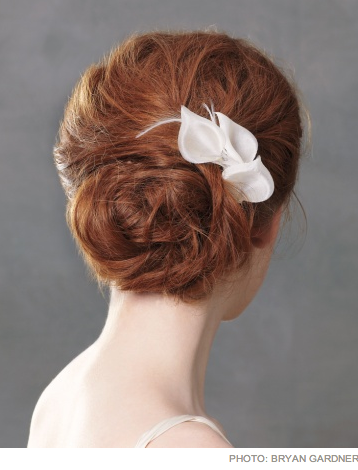 On the other hand, if your long flowing locks are one of your best features then this is the time to wear your hair long and a bit boho loose. Remember you can have fun with your acccessories. You could just simply tuck a tropical flower into your hair - but sparkles also look good - we're thinking glittery haircombs and clips.
What To Wear At Your Destination Wedding
Of course, you can still wear a beautiful long white wedding dress but avoid anything in a heavy fabric. Rich satins and silks just don't work on a beach, they won't travel well and you'll be too hot. The same goes for dresses with lots of detail and stitching and fitted bodices. Look for a destination wedding dress which packs beautifully, shakes out on arrival and makes you look like a dream bride.
On your feet - flats are a must. Walk down the aisle towards your groom in beautifully manicured feet barefoot on the sand or wear a pair of jewelled flat sandals. Save the heels for another time.
As for your groom, he'll want to be looking light and summery himself - a dark suit would be so not right. So he might like to check out Dessy's seersucker summer suit or one of our other light summer suits.
Pinterest is a great place for looking for inspiration for your beach destination wedding and bridal hairstyles that would suit you.
Are you planning a destination wedding? Any thoughts to share with us?
(Images via Martha Stewart Weddings - Bryan Gardner)