Lela Rose Bridesmaid Dresses in the NY Times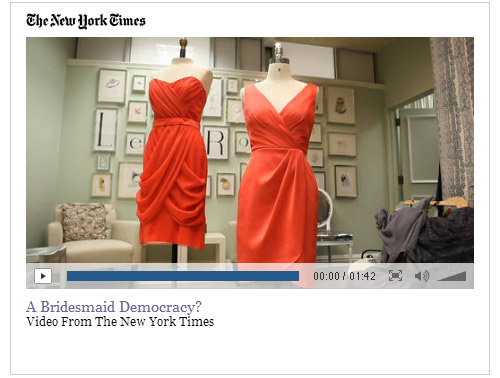 Bridesmaid dress designer Lela Rose and her dresses have been featured in the Weddings and Celebrations section of the New York Times!
Watch the video below, and read the full article What's New in Bridesmaid Dresses.
You can view the complete line of Lela Rose bridesmaid dresses on Dessy.com.
The New York Times says that bridesmaids today have significantly better style choices than bridesmaids in decades past. They have access to sophisticated dress collections offering attractive, rewearable designs that can occasionally outshine even the bride. Designers such as Lela Rose have given wedding parties flexibility in materials, cut and color.
Fabrics that drape are flattering for many women, said Ms. Rose, who also uses chiffon in her bridesmaid collection. She introduced her bridesmaid collection shortly after her bridal-line debut in fall 2006. She partnered with the Dessy Group to produce the designs, with details borrowed from her ready-to-wear and wedding gowns, some with upscale fabric like silk gazar. The designs are "very individualized," she said.
"Often there is one detail that brings them all together," she said. Women can choose among different cuts to suit their body shape but in the same color.
The very-uniform look is not very modern, Ms. Rose said: "Some girls look great in anything, but not everyone does. Bridesmaids are part of your pictures, so why wouldn't you want them to look great?"
Your wedding party can indeed look great with Lela Rose bridesmaid dresses and accessories to match. Brides who like Lela's style can view Lela Rose wedding dresses on LelaRose.com.