Orange You Glad It's Almost Fall? Tips on Choosing Orange for Your Bridesmaids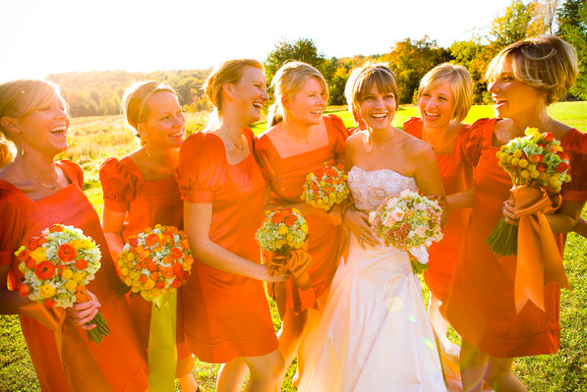 Orange is the quintessential color for fall, but it can be a tricky hue (no one wants a Halloween wedding... well almost no one). We're going to break down the dos and don'ts of wearing the citrus tone to help you sidestep any potential wardrobe disasters.

First off, let's look to the ladies of the red carpet for a little inspiration. Whether it's Beyonce, Gwyneth Paltrow, Emily Blunt or Drew Barrymore - these style setting beauties know a thing or two about how to wear shades from clementine to firecracker. Notice, the silhouettes and shades change, but these lovely ladies follow the age-old K.I.S.S. rule... Keep it simple, stupid! Too many trendy elements or over accessorizing can be brutally detrimental when working with a bright, bold color.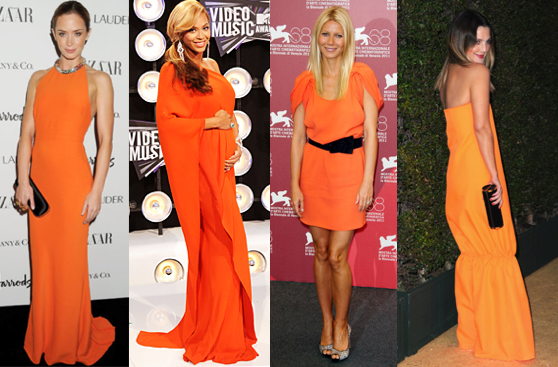 From Left to Right: Emily Blunt in Alexander McQueen, Beyonce in Lanvin, Gwyneth Paltrow in Prada and Drew Barrymore in Jil Sander
If you're considering orange (or any other really bright, cool color) for your bridesmaids, it's necessary to take into consideration the location, the flowers and the ambiance more than you would for other shades. A loud floral arrangement can clash and/or make the look seem comical. It's also important to let such a saturated pigment sing on it's own (and for your ladies to get a bit of a glow!). See below for a lesson on how to achieve the look!
From Left to Right: Alfred Sung D620 in Fiesta, Leila Rose LR188 in Tangerine Tango, Dessy Collection 2886 in Spice, Short Twist Wrap Dress in Firecracker
Happy Planning!