Why Colour Sets Our Bridesmaids Dresses Apart
Ask a bride why she chose Dessy bridesmaids dresses for her maids and she'll come up with a variety of reasons (the style, the fabric quality, the value for money, the look).

But one of the overwhelming reasons girls choose frocks by Dessy is the mouthwatering range of colours that the dresses come in. To misquote Henry Ford, you can have gowns in any colour you like, as long as it's not just black.

Take style After Six 6674 which comes in a total of 80 different shades. You can run the whole rainbow. There are different reds to choose from, a forest of greens and a sky full of blues.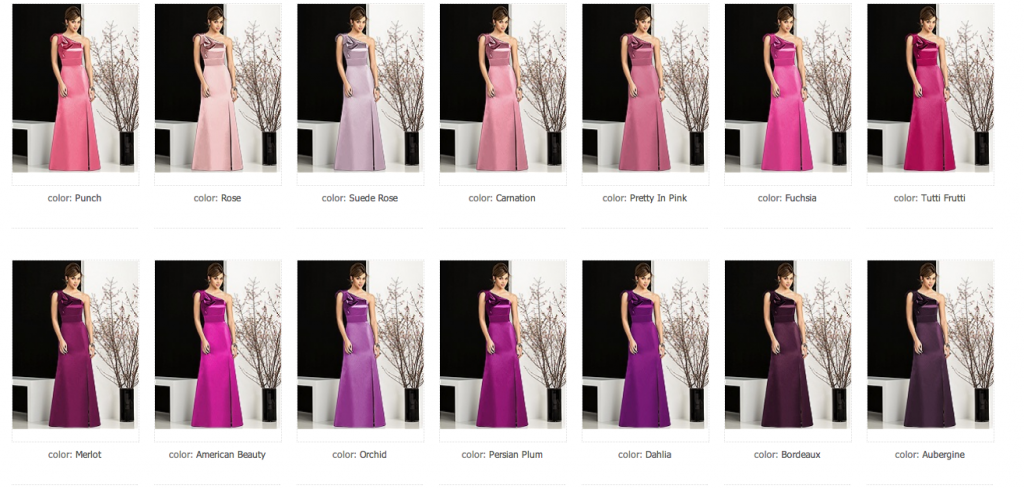 This Dessy bridesmaid dresses comes in over 50 shades - including greys!
So as well as choosing a style to suit your different bridesmaids, you have the luxury of knowing that they're going to be in a colour that flatters their complexion too.
With an eye on the future, your maids may also want to wear their bridesmaid dress at a future date and our cocktail-style bridesmaid dresses are just too pretty for only one outing. Much as we think the little black dress can be the epitome of chic, we think it's also good to ring the changes so you'll find our cocktail frocks in scarlets, purples as well as glamorous blacks.
Alan Dessy was recently featured in Hemispheres magazine, the inflight publication of United Airlines. He talks about colour and Pantone shades and says that with exact shade references, brides-to-be can now pick out a particular colour and match up their flowers, stationery, eye shadow and shoes. For example, Emerald is Pantone's colour of the year 2013 and you can pick out dresses and accessories to match in this exact hue.

To see how Dessy bridesmaids dresses would fit into your wedding theme, check out our Pinterest Dessy Real Weddings board which shows real girls in real Dessy frocks at real life weddings. It makes you realise how every bride personalises her big day and makes it her very own.
Main image via Anna Clarke Photography.