Five Different Looks For Your Bridesmaids
Individual. Personal. Just 'You'.
That's how you want your wedding day to be. That's why you're choosing the bridal dress you have, your shoes, your flowers, your venue, your hospitality ...
Interestingly, it's also how your bridesmaids are going to want to feel in their dresses. They're there to support you and help you make your big day go just how you want it ... but they're also wanting to look fabulous and pretty in the wedding photographs.
Matchy Matchy ... No Way

Back in the day it WAS a given that all the bridesmaids were dressed in exactly the same frock, in exactly the same colours, no matter whether it played to their best features or not.

Thankfully, we're not back in the day anymore and dressing your bridesmaids has become something that brides give a lot of thought to - and discussion with their girls of course!

To help you on your way, we've put together five completely different looks for bridesmaids dresses so you can mix and match to your heart's desire. And because all the dresses are by Dessy, you know that you'll have a myriad of choices for colours and styles.
]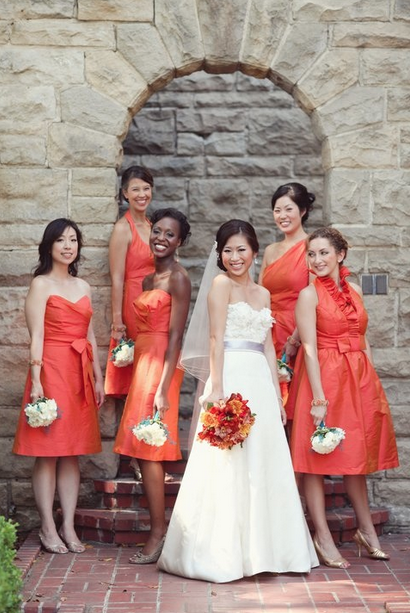 These Alfred Sung dresses are all in the colour Fiesta

1. Dress your maids all in the same colour - but let them opt for different necklines so they can play up their good points. Halter neck, strapless, high neck ... whatever. These cocktail frocks by Alfred Sung are so pretty they'll want to wear them over and over again!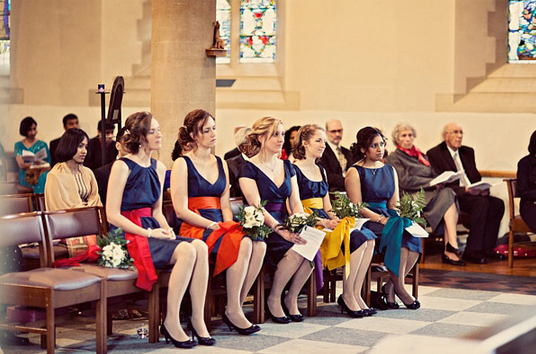 Multi-coloured sashes set these Alfred Sung dresses apart!

2. If your maids are wearing a darker colour, change the look by giving them each a different coloured sash (these girls also have different necklines to their Alfred Sung dresses too). You can work in this theme to their flowers as well by giving them brightly coloured co-ordinating bouquets.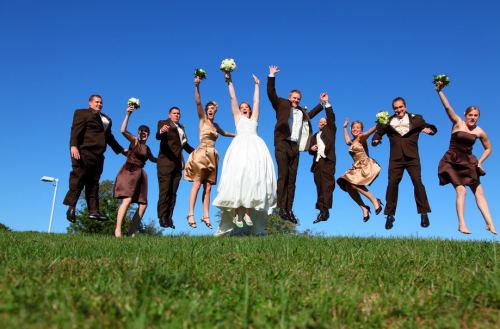 Mix up shades that complement one another - these bridesmaids are in espresso and cappuccino colours/

3. Put your dresses in colours that co-ordinate and complement. Here the bride has used a delicious combination of dresses by Dessy and Alfred Sung in espresso and capuccino tones.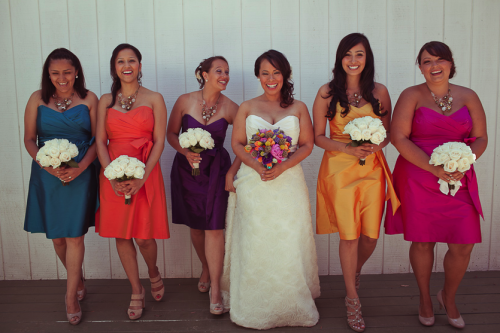 Same Alfred Sung dress, five different shades

4. If your girls all LOVE the same dress but you want to add a note of difference (and maybe you want to avoid putting your red-haired friend in a pink frock) then choose it in different coloured jewel shades. A real show stopper when they enter the ceremony! These dresses are style D437 by Alfred Sung.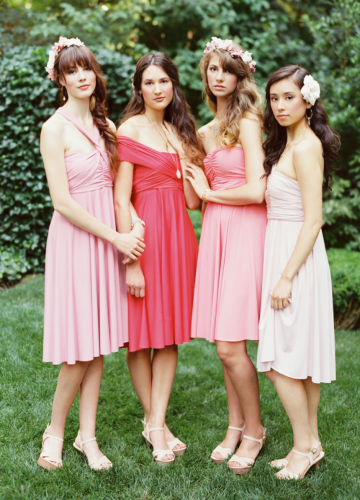 5. Finally, we couldn't forget to mention the Dessy Twist Dress which can be styled in a number of different ways and even worn as a skirt. It's available in over 25 shades, your girls can adjust the neckline to suit them and it also packs like a dream, so it's fabulous for destination weddings. (And it's an incredibly useful number to have in your wardrobe).
Enjoy! Have a look at our Real Dessy Weddings Pinterest board for more inspiration from real brides to see how they dressed their maids!
Photo credits: 1. Image by Brandon Kidd 2. Image by Anna Clarke Photography 3. Michel Ya Lu Photography 4.