Do you REALLY need a bridesmaid?
Some brides do. Some brides don't.
Some brides-to-be like nothing better than to be attended by a clutch of flowergirls and pageboys with a sprinkling of senior bridesmaids to keep the young ones in order.
Other brides? Well, they might have just one bridesmaid to help them but that's all. Or maybe they're dispensing with the idea of having a bridesmaid altogether - they're the independent sort and feel they can do it just by themselves, thank you very much.
We've talked to past brides, wedding planners and our Dessy Facebook brides to see what they thought. From our findings, we've drawn up the following list of pros and cons for you to be thinking about. If you've any to add, please leave a comment below. (You should also check out our Will You Be My Bridesmaid cards.)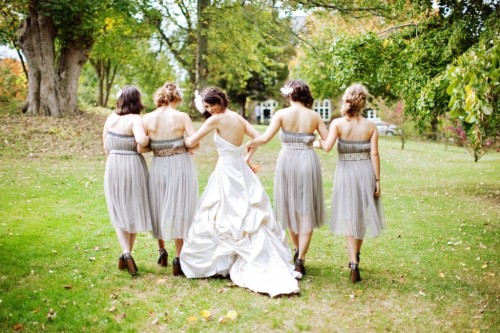 The Pros of having a bridesmaid
You've got somebody to help you organise your big day (work out which parts you're happy to hand over)

You'll have a hen party organised for you (that's the chief bridesmaid's job)
You'll also probably have a bridal party organised for you
You've got somebody to hold your hand and laugh/cry with when you're feeling stressed and things aren't going to plan
A good and honest friend who acts as your bridesmaid will tell you straight how you look in your wedding dress
You've got somebody to help you get dressed on your wedding day
You've got somebody to organise the younger bridesmaids and get them in line for photographs
Your chief bridesmaid will hold a handbag for you with emergency supplies (tissues, makeup, tights)
When you arrive at your ceremony venue, your chief bridesmaid will straighten your dress and veil
Your chief bridesmaid will make sure the wedding bouquets are displayed correctly at the wedding reception
Basically your chief bridesmaid is there to help you make sure that everything runs smoothly
It's a lovely way of thanking your best friend since primary school for always being there for you - she's now going to play a big part in your wedding day with you!
The Cons of having a bridesmaid
Who do you ask? Is there anybody you'll upset by not asking them? How do you choose between two best friends?

We think you should let your bridesmaid wear a frock she likes rather than choose it for her. Although you could give her a selection of colours and styles to choose from.
She could announce she's pregnant and the baby could be due before your wedding day - so you might not be able to depend on her (Dessy has some great maternity bridesmaid dresses though.)
You'll need to make sure you've chosen somebody who's organised and calm - a nervous bridesmaid could wind you up and make things more stressful
You probably ought to buy your bridesmaid dress for her or at least contribute. So that's an expense for you.
You're also going to have to buy a bridesmaid gift out of your budget (but take it from us, she'll have earned it!)
You might find your bridesmaid being negative about your dress, your venue, even the man you've chosen to marry. In which case, we think that you've probably chosen the wrong girl in the first place.
What do you think? Do you think having a bridesmaid is a must? Did you manage without? Your thoughts please!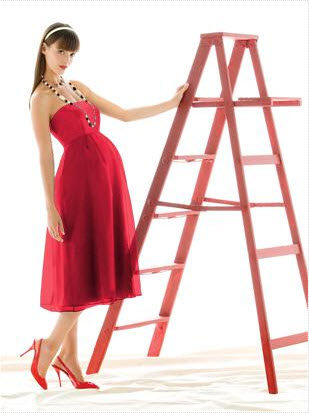 Don't worry if your bridesmaid springs a surprise on you by telling you she's pregnant. Take a look at some maternity bridesmaid dresses like this Alfred Sung M423 style which comes in a rainbow of colours.