How to Be a Budget Friendly Bridesmaid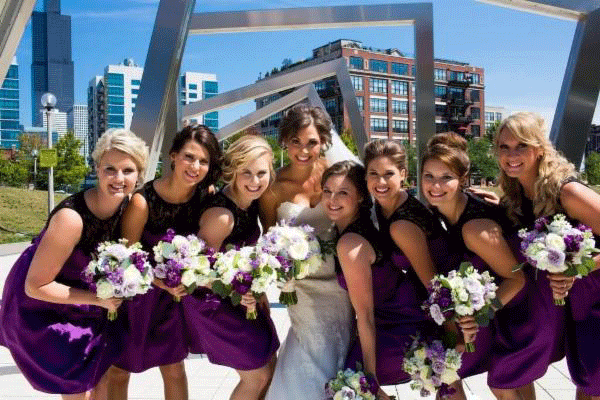 Being in a wedding (or more) can get a bit costly, and as a bridesmaid you will want to think about how to cut corners without compromising anything for the wedding you have agreed to be part of. Here are some tips on how you can find efficient ways to be a budget friendly bridesmaid.
1. Makeup can be done yourself. If you aren't good at applying makeup, ask for help from those that do make up or find a friend who won't charge you to do your makeup.

2. If you know ahead of time that you will be part of a wedding, begin putting money aside specifically for the wedding or weddings.

3. Hair can be difficult to do yourself or cut corners on, because the bride may want her bridesmaids to adhere to a specific style or go to a specific salon. If the bride doesn't mind, see if you can find a friend to do your hair or go to a salon that doesn't charge as much as the salon your bride may be suggesting her bridesmaids go to.

4. We all like to go out and buy new dresses for events, if you have multiple weddings, try changing up a dress you already have with a belt, different jewelry or cardigan. To get more use out of a bridesmaid dress, wear it at other weddings you may have going forward, if it isn't overly formal.

5. Use an old short bridesmaid dress and add a different accessory and you have a dress for a rehearsal dinner or bridal shower. Short dresses tend to be less formal and easier to be worn again. You can also shorten a long dress as a long as it doesn't compromise the integrity of the dress itself.

6. If you can't do your own hair, get it done, but do your own makeup.

7. We all love getting our nails and toes done for a wedding, this is a great way to save. Do it yourself. If you aren't a great nail painter, use a neutral color (my favorite is Essie's Ballet Slipper) no one will be able to tell. Another great way to save on your nails is not to get a French manicure/pedicure, but just a regular manicure/pedicure, it is cheaper.

Brides, here is some advice on how you can help your bridesmaids along with the budget friendly route -

1. Be conscious of the bridesmaid dress you are choosing.

2. Give your bridesmaids all the information they will need on prices for everything including hair and makeup and if they choose to do their own makeup or have hair done by a friend just be fine with that. Don't stress about it.

3. When coordinating the bachelorette party, think about cost especially if you want all your maids to be there. As a bride, remember that the bridesmaids may not only have your wedding to pay for but others. And you don't know everyone's financial situation, so be courteous of that.