A Wedding Gift Plant List - A Blooming Beautiful Idea!
When you're a second time around bride - or if you've been living with your fiancé for a while - you've probably got most of the domestic equipment you need already.
Back in our grandmothers' day, they'd have asked for bed linen, crystal, dinner services, kettles and of course maybe a toaster as wedding presents.
Gifts have moved on a bit since then. Some couples ask for a donation towards their honeymoon but that's something many feel a bit uncomfortable with.
However if you have a garden you could also ask for plants as a wedding gift. I think this is a fabulous idea. Your guests are giving you something they know you want, your shrubs and flowers will be a delight for the years ahead and you can take photographs to use as your thank you cards.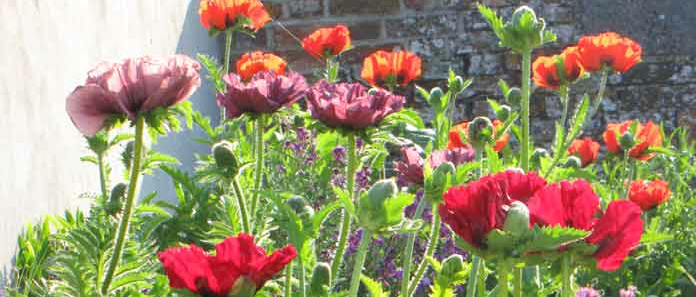 A wedding flower gift list
And that's exactly what our bride-to-be Donna has done with her wedding registry. She's chosen to stock up the garden of her home with her fiancé with all the blooms she's been dreaming of. Here's her story, what's she's chosen and why.
"Yesterday Emma and Lils tried on gorgeous bridesmaids dresses from Dessy (more about that in a couple of week's time), and with six out of seven of the bridal party hanging out at home, I canvassed opinions about flowers...
Our wedding colours are silver and deep purple. I love purple lisianthus. My lovely friend Lisa appeared with a bunch of them one day 10 years ago when I felt life felt couldn't get any worse, and I have bought them whenever I or anyone else needed a lift ever since then. They will form the basis of my bridal bouquet and the table flowers, although I will need bright green, cream and silver to lift the purple, as they tend to completely disappear at night!"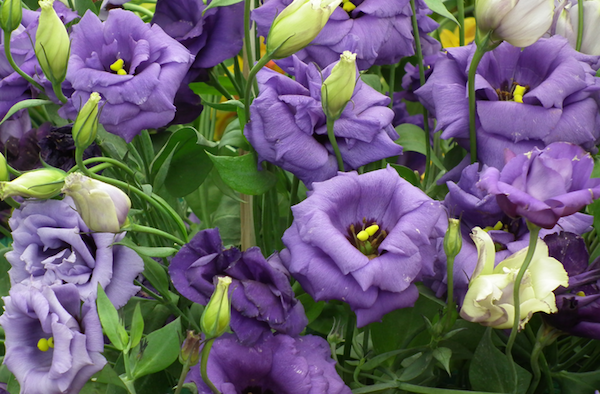 Lisianthus is one of Donna's chosen wedding flowers
DIY-ing my wedding flowers
"I have been part of the flower team in my local church for years, and so felt confident that I would be able to "do" the flowers for the wedding. My friend Naomi is making the bridal bouquet and buttonholes for the groom and his men, so I don't have that as a concern. And my closest friends have offered their time the day before the wedding to help with whatever is needed, so all I need to do is decide the centrepieces of the 12 tables, work out quantities, and get quotes and orders for the flowers.
Naomi is lending me circular mirrors for the table centrepieces, and between us we have amassed a collection of cut glass vases collected from charity shops over the years. I found some wonderful candles from Dunelm Mill (which were only 99p each but burn for 36 hours €¦ that should just about be long enough for the real hard core wedding guests to leave the reception!
I will alternate candles with vases of flowers on each circular mirror. I will arrange small roses and berries in one vase, lisianthus, eucalyptus and sparkly silver branches in a second, a large head of a green/white hydrangea in a third, and am waiting for inspiration for the fourth. I usually look at Pinterest and The Knot, both wonderful wedding websites, for ideas. I will do a couple of big arrangements to take to the Guildhall, and am still searching for inspiration for how to pop some of our personality and wedding theme into that beautiful room. I may make some floral pew ends for the central aisle.

What we decided about the wedding gift list
When thinking about a wedding gift list we were uncomfortable about having a list at all. A year and a half ago we combined two households, so we have a lot of stuff, and want for nothing. But we would love to have a momento of our wedding. I am restoring the garden at home, and it is a bit tired, and I had an idea and did some deep internet trawling. I came across a wonderful website Sweet Meadow Gardens and spoke to the owner and creator, Annie Hogan.
"There is no spot of ground, however arid, bare or ugly,
that cannot be tamed into such a state as
may give an impression of beauty and delight"
Gertrude Jekyll
Annie has helped me put a wedding gift plant list together, so that if anyone wants to buy us a momento for the wedding, they can go online and order a packet of bulbs, or a plant, or tree. And we will enjoy the plants for years to come.
For us, that's much much better than toasters or a new set of bathroom towels!