6 Mobile Apps for Planning your Big Day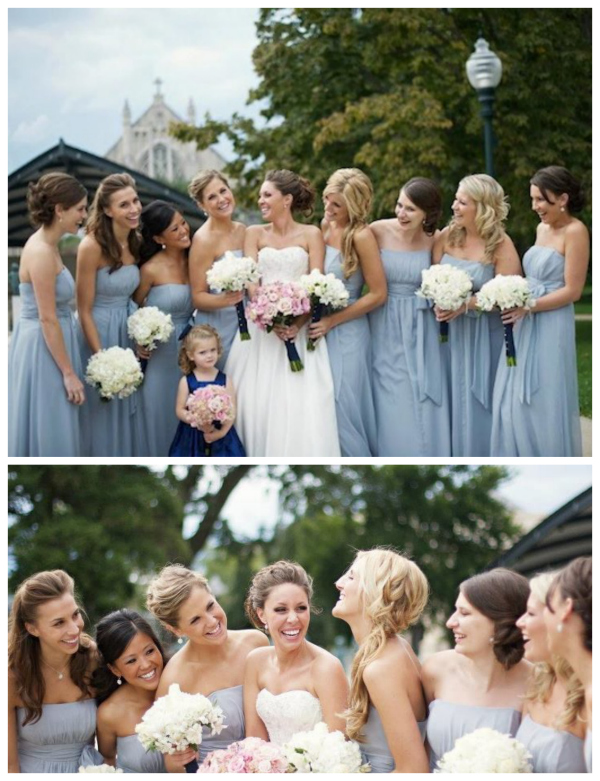 Pictured above: After Six by Dessy empire waist chiffon dresses in Platinum.
This post was originally published on the Fueled blog. Based in New York and London, Fueled is a mobile design and development company.
By Deborah Mackay, Fueled.com
Women will spend years dreaming of their wedding day, but when the time comes, the dreams can turn into nightmares.

With guest lists, venue hire, floor plans, and seating charts, it's no wonder brides get overwhelmed. Fortunately, the 21st-century bride has an advantage over her sisters of yesteryears — the smartphone. And with that smartphone comes an abundance of apps to make planning and celebrating your big day a piece of royally-iced cake.

1) Put a Ring On It: The Tiffany & Co Ring Finder

Love your beau but questioning his taste in jewelry? The Tiffany & Co Ring Finder catalogues engagement rings by shape, setting, metal, and design. When you find a potential keeper, select the 'try it on' option. Simply snap a picture of your hand, line it up, and resize the ring to fit. Then, sit back and admire the bling. Still can't decide? Add it to your 'saved rings' list for later. Nobody said you have to make a decision right away

One of the handiest (pun intended) tools on the app is the ring sizer. If you consider your 'ring size' as simply: whatever fits on your finger, this tool will be useful. No need to get the tape measure, just drop one of your existing rings on the screen and scale the diagram on the app to match. Voila! Your ring size is no longer a mystery.

When you finally find the one (I'm talking about the ring here), you can share it with your friends. Hopefully they give your future hubby a few subtle hints. Subtlety not your thing? Share it with him directly – he's got no excuse for getting it wrong then.

TIffany & Co Ring Finder >>

2) Find Your Color Scheme: Lover.ly

Lover.ly, the bride's must have Pinterest-esque wedding search and shopping engine, has created a life-saving app. Although we adore the website, we love that all our wedding design inspiration and color palettes are in the palm of our hand. The app allows brides (and grooms!) to search, shop and share elements of their dream wedding and make it so easy to search for shoes, dresses, vases, chairs, etc. within your color scheme. The app also has a genius feature: the "add" button. Love the flower arrangements at your frenemy's wedding or see a flower girl dress you love? Press the 'add' button to snap a photo and add the pic to your 'bundle' or share with your bridesmaids.

Lover.ly >>

3) Save the Date: Countdown +

Now that it's official, it's time to set the date. After you've settled on the perfect day of the year, Countdown+ will make sure you never miss a moment. It's a simple concept: name the event, put the date, upload a cute photo, and the app will create a real-time countdown to the nearest second. Once created, you can share your countdown with friends and family directly from the app.

Why stop at the wedding? Countdown+ allows you to have a number of countdowns running at the same time. There are plenty of other events to get excited about in the run up to your nuptials. Create countdowns for the engagement party, bridal shower, dress fitting, cake tasting…

Countdown + >>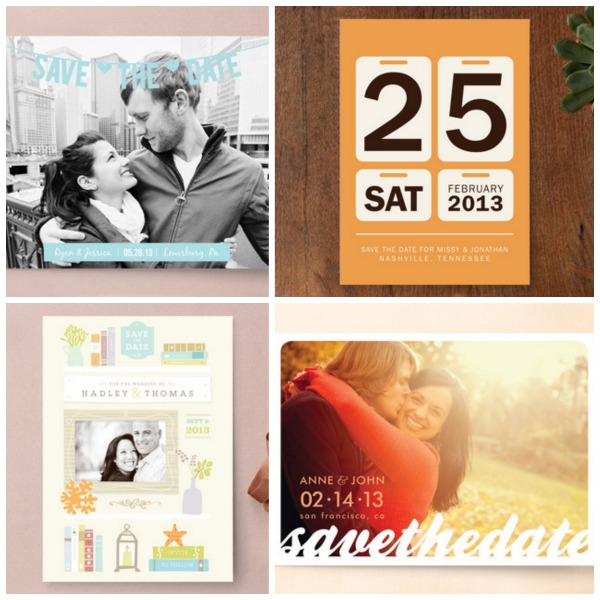 4) Be Our Guest: Weddy

With the ring out of the way, and the countdown underway, it's time to get planning. Enter Weddy. With its clean, flat UI, this little app will become your best friend in the lead up to your wedding. Weddy organizes and keeps track of all your guests. To get started, enter the first and second names of the bride and groom and the wedding date, then add your guests' names. You can do this manually or by simply importing the names from your phone. Once all your guests are listed, the fun really begins.
With each guest, you have a number of options. You can update invitation status, assign seating for table arrangements, and make a note if they gave a gift. The Invitation Tool offers a stress-free way to manage your attendees and absentees. Select which events the guest is invited to – ceremony, reception, dinner, party, (or all four) – then tag as sent (providing you have actually made it to the mailbox – Weddy doesn't do that bit for you). You can then select whether they have accepted or denied the invite. Want to add a plus one? You can do this by heading back to the guest info page.
Once all the guests are set, the Tables Tool will help you arrange seating. It's a simple tool, it involves creating the tables and then assigning the guests to each table. The tables are then displayed in a list by name. You can check out which guests are where by clicking on the individual table. The only thing that's missing from this tool is a table layout plan, which, let's face it, is important. Poor Auntie Betty won't be happy if she finds herself stuck at the table in the back of the room.

You've exchanged rings, you've had your first dance, you've thrown back far too much champagne, and you now have a mountain of presents sitting in front of you. The Presents Tool helps you note down who you've received gifts from, what they've given you, and most importantly, if you've sent them a thank you note.

Weddy >>

5) Ready to Tie the Knot: Wedding 911

With The Knot's Wedding 911, you don't have to worry about improper wedding etiquette. The 'Ask Carley' section covers everything from advice on who should host your bridal shower, to best foods to eat on your wedding day. The Q&A's are broken down into different topics, making it quick and easy to find a solution to your bridal anxieties. The 911 section features what other brides-to-be are planning and inquiring about before they get hitched. To get the most out of this app, you'll have to sign up for a free account with TheKnot.com.

In addition to Wedding 911, The Knot released its Ultimate Wedding Planner app, a must-have app for all brides and bridesmaids. The app features an all-encompassing selection of useful tools including a checklist, budget calculator, and vendor directory. With the Ultimate Wedding Planner, it guides you from the beginning all the way to the end. Worried you've forgotten something? The comprehensive My Checklist feature has that covered. The checklist comes pre-loaded with a timeline of to-do's — starting from a year in advance, right up to the day you say 'I do'. Think the girls at The Knot have missed something? You can also add your own custom to-do's to the list.

There's no escaping it. Weddings are expensive, and it's very easy for costs to run way off the chart. Fortunately, the Knot's Budgeter Tool will help keep your finances in order. Simply enter your budget with the number of guests, and the app will calculate an appropriate total spend, as well as what you should spend it on. You can then add payment dates, notifications, and the actual amount paid compared with the budgeted amount.
With budgeting done, you can turn to this app for help with the vendor search. The My Vendors Tool is broken down into different categories, covering everything from venues to calligraphy. Clicking on the category will load a list of locations; selecting a location will load a list of vendors in the area. You can then view, save, or contact the vendor right from the app.

Wedding 911 and The Ultimate Wedding Planner >>

6) Celebrate Good Times: Wedding Party

Time to have some fun: Enter the Wedding Party App. It's a guestbook and photo album combined. Described as 'the custom app for your wedding journey,' this app helps soon-to-weds get their friends and family involved.

Get started by adding your wedding details, then share your Wedding ID with guests so they can join your app, too. Once everyone's loaded up, you don't have to worry about who took the photos of the cake cutting, or missing your new hubby bust out moves on the dance floor. All your guests can get snap happy on their phones and then upload the photos to the app. Who needs pricey wedding photographers?

Another great feature of Wedding Party is that you can capture more than the big day itself. Getting your guests signed up early means you can start sharing you wedding journey from day one.

Wedding Party >>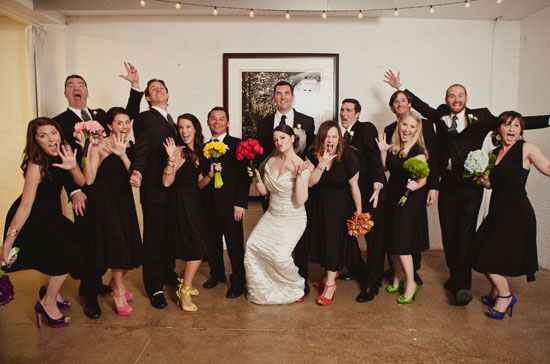 Pictured above: The Dessy Twist Wrap dress
Bye-Bye Bridezilla

Apps not only relieve wedding planning stress, they also make it fun. These apps bring a whole new social vibe to nuptials. With more of us living further away from our loved ones, tech is a great way to keep everyone up-to-date on plans and included in the celebrations.