The Magic of the Holidays on Your Wedding Day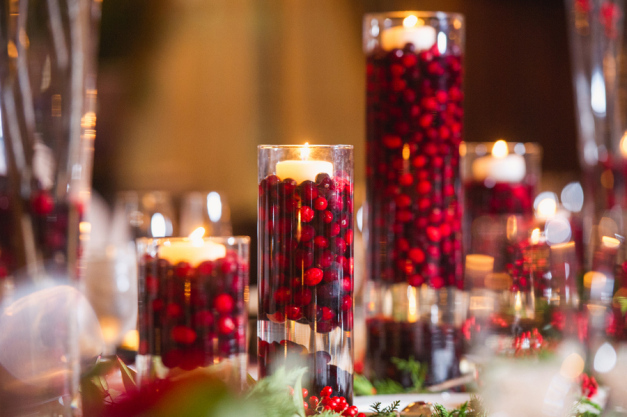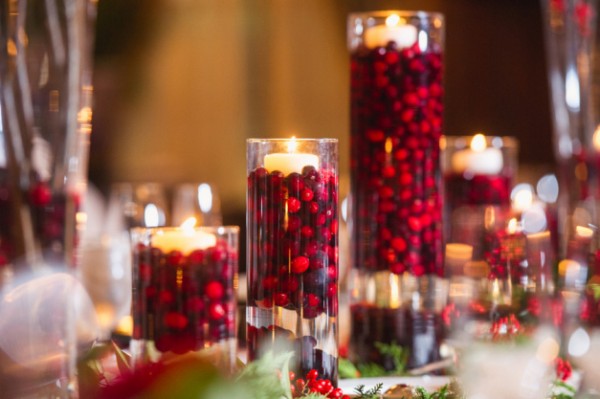 How beautiful is this centerpiece with cranberries? This is a very festive way to have holidays brought into your wedding day. Photo by Joe Hendricks Photography

The holidays are such a magical time of the year, a time when everyone is in the spirit of love and giving is just the natural way of life. So getting married around this time of year is just perfect. Here are some ways on how you can incorporate the holidays into your wedding day:

Colors: When it comes to colors, believe it or not you can step away from the traditional red and green holiday theme that so many may choose for their holiday wedding. I've seen weddings where couples have done black and gold which gives a more celebratory look and feel to the wedding and it is a celebration right? I've seen black and white weddings around the holidays with red and cream colored accents. You can do an entire winter white wedding with accents of brown and hunter greens that will give the overall wedding a magical outdoor feel indoors. Navys, various shades of blues and silver with a little sparkle also give your wedding a magical winter feel to your wedding.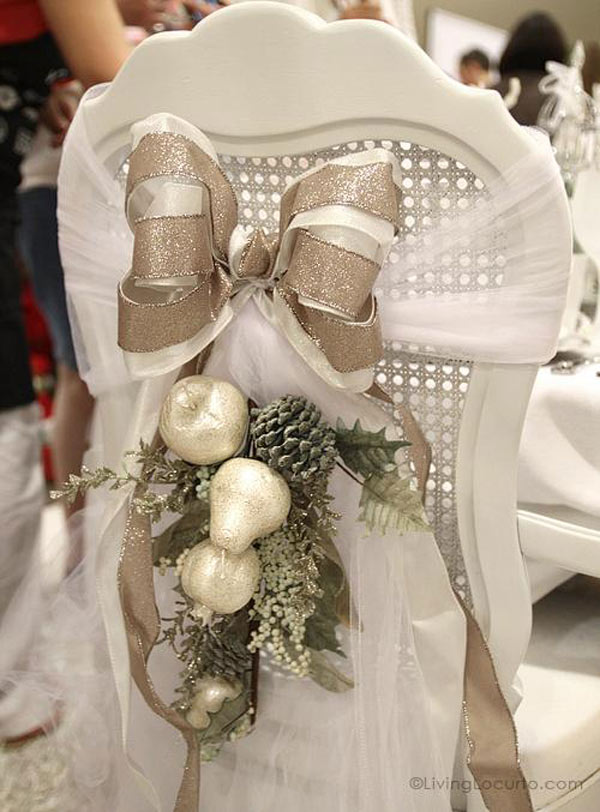 If you are going for the winter motif for your holiday themed wedding day, decorate each of your chairs just like this to add to the beauty of your wedding day. Photo featured on Weddbook.com.

Centerpieces: Warm (unscented) winter white candles can be the center of attention at each of your tables. You can again bring the outdoors in by incorporating fresh pine and winter branches. Pine cones can accompany around the table as well. You can also have lanterns on the table surrounded by teaight candles and fresh pine. Incorporating red into your centerpieces by having fresh red roses, holiday wreaths with red accents is a good centerpiece idea.

Bring Love In: Hang mistletoe in various places where your guests will be, this would also make a great photo opportunity for the couples at your wedding.

Seating Assignments: Have a Christmas tree greet your guests and on the tree they can find ornaments with their name and table number. This makes a for a great party favor that is both beautiful and memorable. If this is too much to do, having a simple table with each name on a ceramic snowflake that is also an ornament as well with your guests names and table number.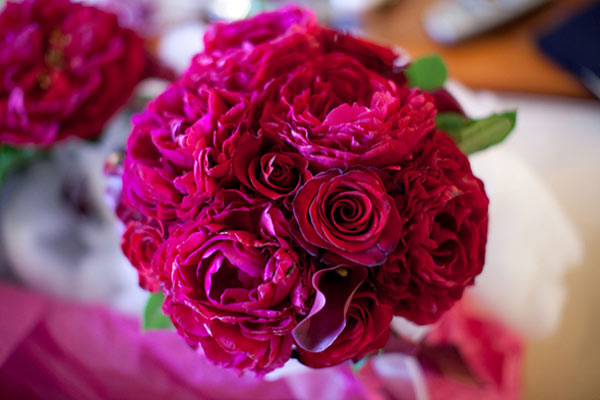 This is such a beautiful bouquet of flowers for your holiday wedding day and it goes well a variety of colors chosen for the bridal party. Imagine how striking this bouquet is for a black tie affair holiday wedding? The options are endless! Photo by Joanna Tano Photography.
Flowers: My first thought was red roses of course! However, there are other flowers that are also just as beautiful for your holiday wedding. Options include red or white calla lillies, red carnations, holly, amaryllis, ranunculus and white roses to name a few.
Favors: Guests can go home with a holiday ornament of some kind, or a candle with fresh scent of the holidays. This is the perfect opportunity to have chocolate cake pops,( or chocolate in any form is always nice), mugs with hot cocoa mixes, imported coffees and teas, a bottle of champagne especially if your wedding is closer to New Year's.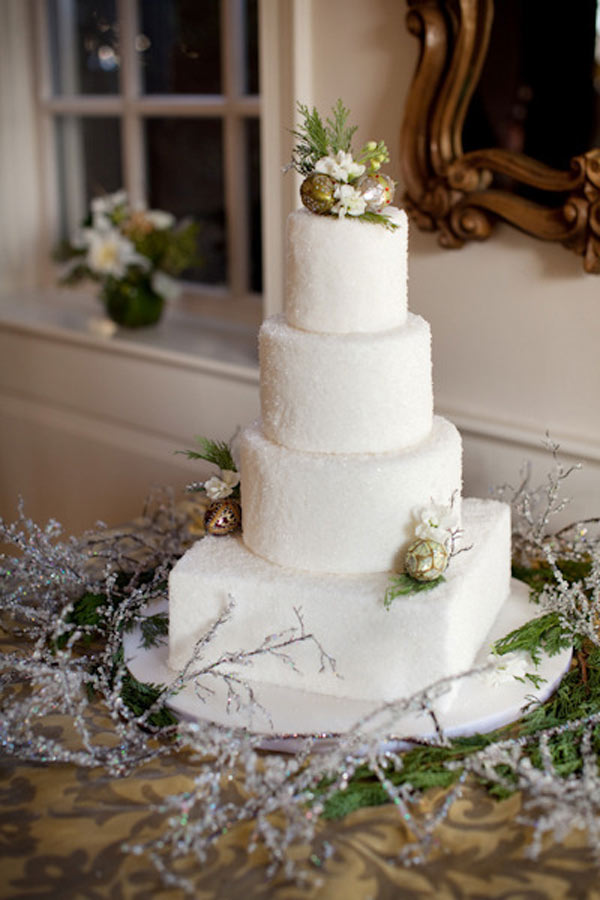 Another beautiful way to bring the winter wedding theme indoors! This cake is just breathtaking from the cake topper to the holly at the bottom. Photo featured on StyleMePretty.com

You can really play up the winter season theme and simplicity can be key for your holiday themed wedding day. Incorporate sparkle wherever you see fit to give both that celebratory and dusting of snow feel to your wedding.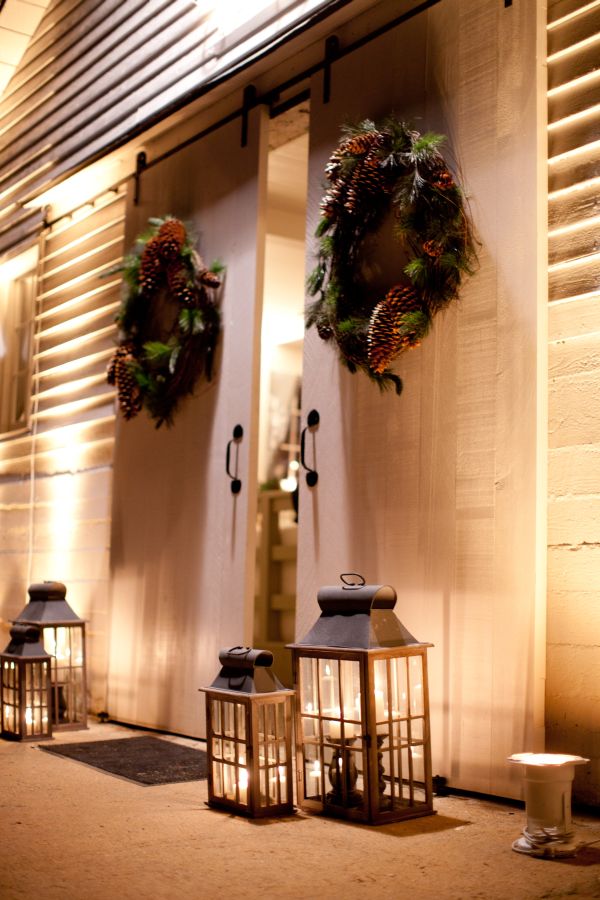 Having a rustic holiday wedding day? This is the perfect way to invite guests into wedding ceremony and reception. Photo by Eric Kelley Photography.
Need a dress in a hurry for your holiday wedding day? Take a look at Dessy's In-Stock Bridesmaid Dresses that are just gorgeous!