You're Engaged! Should You Start Looking for Bridesmaid Dresses Now?
You've just gotten engaged and you are enjoying the euphoria of planning a wedding and your timetable is set. So how long before you start looking for bridesmaid dresses?
Each bride may have her own way of doing things, some may take their time before looking for bridesmaid dresses, some may get the rush on it and begin just a couple of months after he puts the ring on. It varies.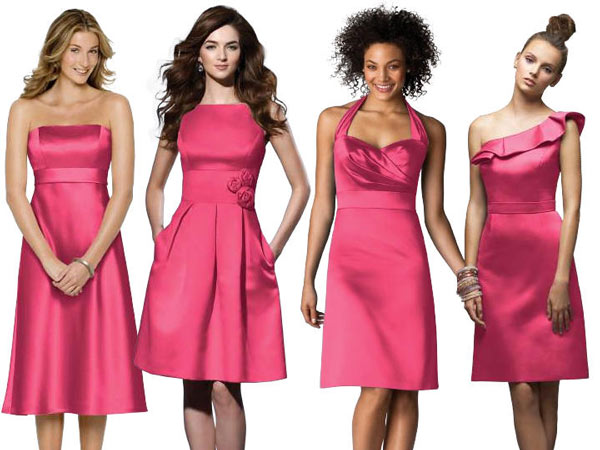 Looking for different styles and colors for your bridesmaids? Check out Dessy bridesmaid dresses just like these for spring!
Some brides will tell you to start looking for bridesmaid dresses about eight months before the wedding or that the search for the right bridesmaid gown doesn't need as much time as you think it might.
Different designers may have different delivery times. For example, Dessy has quick delivery options for bridesmaid gowns, which makes it easier for the bride to have this aspect of her wedding taken care of well before her wedding day or on short notice.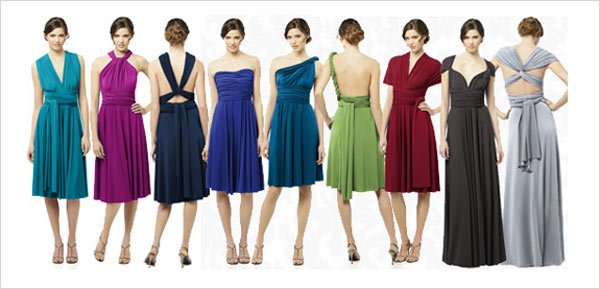 Dessy's Twist Wrap bridesmaid dress is the perfect dress for all body types and satisfies so many of the bride's love of different styles. And it's great to travel with too!
Beginning the bridesmaid dress search may also begin once you have set the date of your wedding, which in most cases happens pretty quickly, since booking a venue is one of the first things you do as an engaged couple.
You can also begin looking at dresses after you have found your own dress, (and no, your dress does not necessarily need to match your bridesmaids' dresses.)
Some brides will tell you two to three months after you get engaged is an ideal time or even four.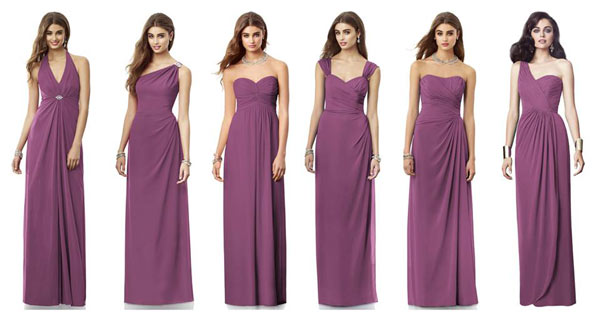 This spring join us in celebrating the new Pantone color of 2014 - Radiant Orchid.
Before you take your girls out to look at dresses, make sure you have a style and a few colors in mind as well. The color you choose for your bridesmaid dresses will dictate the color scheme of your entire wedding.
If you are a bride that needs and wants to get this done early, begin by looking in various bridal magazines and research online at various looks and styles, preferably by Dessy!
Some brides may have an idea in mind about the style of dresses they want for their bridesmaids before they begin the search, while others find that allowing the bridesmaids to choose their own dress may make the search process a lot easier and quicker for everyone.
It truly varies for each bride and how much time they are willing to take to find the right bridesmaid dress for their girls. So have fun and let this be a memorable time for everyone!