Where should your wedding guests stay? Six ideas to be considering.
One of the wonderful things about your wedding day is that you can look around and see all those nearest and dearest to you gathered together in one place - your cousins from Australia, your best friend from school, your sister who emigrated to the USA ... and so on.

But of course, they are all going to have to stay somewhere. And different people have different requirements when it comes to accommodation. If they have children or dogs, they might not want to stay in the main hotel where you're marrying - and in fact you may want to keep that hotel reserved just for the family in any case.

Furthermore, many people decide to use a wedding as a reason to make a weekend away of it and so they will be looking for somewhere fun to stay.

Five Star Deluxe or a Farmhouse B&B?

Accommodation options will be different depending on where you have chosen to get married - if it's in a little village near your parents' house it might be a nearby country house hotel and B&Bs.

If you're marrying in a city, then your options are likely to be much more varied.

Just a couple of things. Firstly make sure you give your guests plenty of time to sort their accommodation. If you're marrying mid-summer, there's likely to be much more of a run on local rooms - particularly if you're getting married near the coast.

Also, negotiate a special rate with any hotels you recommend to your friends. If the hotel gets a block booking and knows it can be sure of selling a certain number of rooms for a particular night, then you really can demand a discount.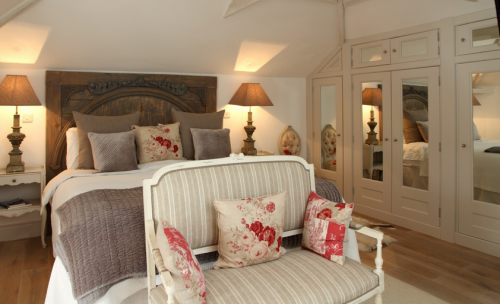 Perhaps one couple would like to stay in a romantic cottage whilst at your wedding?
Put details of accommodation with your wedding invitations and/or save the date cards, along with website addresses and details of any special rates you've organised.
To help you think about it all, here are a few ideas.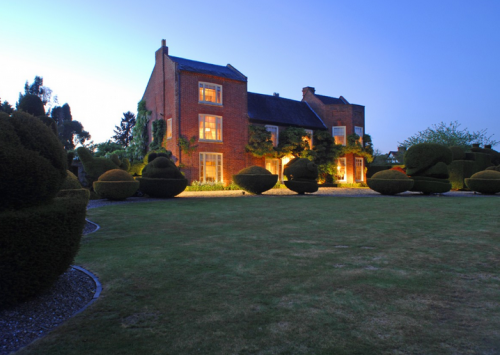 Maybe your guests would like to hire their own manor house for the weekend?

1. B&Bs. These are usually a good and relatively inexpensive option for wedding guests. A few of your friends might like to group together and all stay in the same B&B so they can have a post-wedding catch up the morning after. Start finding somewhere near the venue by looking at a site like Bed & Breakfast Seacher.

2. Anybody for a Yurt? If your guests fancy something a little more quirky or adventurous, why not investigate a yurt and glamping options? All the fun of sleeping (virtually) outside under the stars but with hot and cold running water, flushing loos and lighting. Have a look at Canopy & Stars.

3. If the time of year is right and budgets are tight, there's always camping the old-fashioned way (and in some campsites you don't have to bring your own tent). Find a campsite local to your wedding via PitchUp.

4. For something a little quirky - like a castle or a lighthouse, have a look at the properties cared for by The Landmark Trust. You could stay in a fairytale turret by the sea!

5. Unique Home Stays has some amazing properties - from country mansions to islands off the beach. A large group could stay in the sort of house they would only ever dream of living in - and feel like they are visiting aristocracy in Downton Abbey!

6. Combine a wedding with a spa break and stay at a health spa. You might find a good deal for your guests on SpaBreaks - The Greenway Hotel is currently offering an overnight stay including champagne afternoon tea, breakfast and a 30 minute spa treatment for £109. Sounds like a good way of getting rid of a champagne-induced hangover!

Finally, don't forget to make sure there is a clear address for the ceremony and reception venue so your guests know how to get there from where they decide to stay.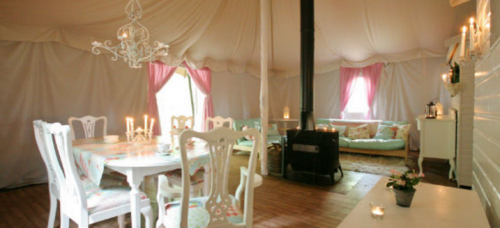 Camping isn't what it used to be!

Main image - The House in The Sea, Cornwall

All images via Unique Home Stays except last which is via Canopy & Stars.