Which are the best flowers to choose for your wedding day?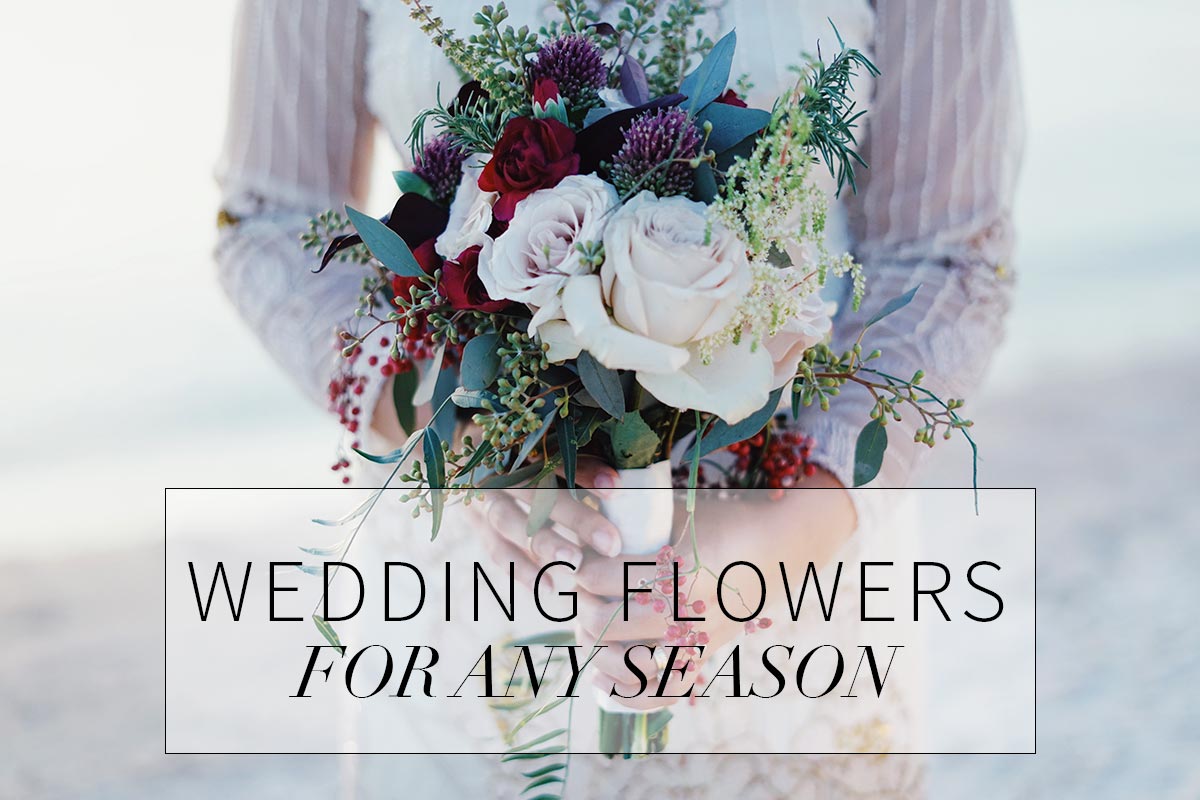 'Say it with flowers' goes the expression. And on your wedding day, you're going to want your wedding flowers to say everything, whether you're going for a country-style day or having a chic affair in a smart city hotel.
But what blooms should you choose?
Well the first rule is to choose flowers that are in season. For all sorts of reasons.
You're being more eco-friendly because you're not having exotic blooms flown in out of season
You're going to find it easier to stick to your wedding budget if you choose flowers that are easily available at the time of year
You're probably going to get better quality, longer lasting flowers if they've been allowed to develop naturally at their own pace, rather than forced into bloom.
So what's on offer in each different month? What can a spring-time bride choose and what's available to an autumn bride?
Well, Kate Middleton got married in the spring and she opted for lily of the valley, which is delicate, pretty and fragrant.
Moving on to early summer you should investigate sweet peas. Many varieties have the most beautiful scent and sweet peas come in the most dazzling shades – from gentle pastels through to vibrant purples and hot pinks. They work well both in bouquets and on wedding tables.
In September and October you could look at hydrangeas. Don't just dismiss them because you consider that they only come in blue and pink. Nowadays you'll find this versatile flower in greens and lilacs. Like sweet peas, they look fabulous in bouquets and both as table decorations.
Dazzling choices of colors - hydrangeas are very versatile
To help you decide, here's a list of flowers for your wedding day that are at their peak in each season.
Spring
Dianthus, Lily of the Valley, Stocks, Veronica, Phlox, Avalanche Rose, Sweet Pea, Lisianthus, Anenome, Genista, Guelder Rose, Waxflower, Narcissus, Helloborus, Ranunculus, Mimosa, Freesia, Polygonatum, Forsythia, Muscari, Parrot tulip, Lilac
Summer
Flowering mint, Peony, Sweet peas, English lavender, French lavender, Sweet William, Freesia, Nigella, Globe thistles, Astrantia, Veronica, Lisianthus, Lupins, Delphinium, Hydrangea, Cornflowers
Autumn
Dahlia, Viburnum, Chrysanthemum, Eucalyptus, Leucadendron, Miscanthus, Statice, Snowberry, Clematis, Artichoke, Cotinus, Anemone, Gerbera, Hydrangea, Campanula, Astilbe, Callistephus, Delphinum, Veronica, Dendrobium orchid, Poppy, Astrantia, Sedum
Winter
Asparagus fern, Hydrangea, Berried ivy, Ranunculus, Cyclamen, Hyacinth, Pussy willow, Narcissus, Christmas rose, Acacia, Nerine
That should give you plenty of options to be considering. Talk to your florist about what you want, he or she will certainly have some ideas of their own to suggest. You'd also do well to put together a moodboard of flowers that you like, arranged in styles that appeal so the florist knows the sort of look you're after.