Wedding Day Dramas - And How To Avoid Them
All that wedding planning. You think you've covered all the bases. And you're going to have the perfect day.
But you know something. Don't expect perfection.
Because however carefully you've planned everything, however much you've gone over your wedding routine over and over again, there's still something that's going to crop up to throw a spanner in the works.
The best thing you can do is make your plans as efficiently as possible - and then not worry.
And here are a few ideas to have in place in case you do end up with a wedding day drama - so you know how to handle it.

Get insured

When you think of how much you're investing on your big day and how long it's taken you to save for it, then paying a small amount to insure your wedding day is really worthwhile. A good policy will cover you in all sorts of areas - if your suppliers go bust, if a key member of your party is ill and you want to cancel, also if you suffer any loss or damage to those key wedding day items like your dress, the rings, transport, your flowers ...
John Lewis has wedding insurance starting at a premium of £58 which will cover weddings costing up to £10,000. It's a cliché but insurance will do a lot to bring you peace of mind.

Rain, rain go away

You really can't do much about the weather on your wedding day. You can plan an autumn wedding and have glorious hot sunshine and a June wedding that's wet with gale force winds. What you can do is plan ahead to deal with the weather and keep an eye on the forecast. If it looks like a washout - or you're getting married in a month when it could well rain - invest in some pretty umbrellas for guests to place outside the church and wear a pair of wedding wellingtons so that you don't splash your beautiful shoes.
If it's a summer wedding and you've booked an open top car, make sure that the transport provider has a back up plan. Maybe a convertible would be safer?

A white wedding

Whilst a white snowy wedding looks wonderful in your photographs, it can play havoc with transport plans. Again, talk to your car company about the vehicles you've chosen and see if they can deal with sudden blizzards - if you're getting married in the dead of winter and have to drive along country lanes, a stretch limo might not get you to the church on time.

Erm ... there's something I need to tell you

Many of your bridesmaids may be of an age when they're planning on having babies - so you need to be expectant too. If your chief bridesmaids turns round and says that actually she's now expecting a baby around the time of your wedding day then you need to have a plan B. To be honest, she probably won't feel up to doing too much organising in the latter months and might be a bit low on energy. Have an 'understudy' bridesmaid who can take over her role when needed although of course she can still dress as a bridesmaid - just check out one of the beautiful maternity bridesmaid dresses that Dessy has designed.

Putting on a pretty face

You may well feel a bit emotional and teary on your big day - and that's nothing to be ashamed of. It's a momentous occasion in your life - but tears can play havoc with your make up. So get your chief bridesmaid to have a standby emergency kit to hand with tissues, mascara, eye make up, foundation - and a spare pair of tights if you're wearing a short dress.
Some brides worry about snapping a heel on their wedding shoes - if that's you, then have a back-up pair in a complementary colour to hand. You probably won't need them but it's a good just in case.

I'm late, I'm late

No bride ever arrives bang on time for her wedding - you're supposed to be a few minutes late. But if you've got a complicated list of timings to stick to - then you should make things less complicated and build in plenty of 'cushion' time to allow for traffic, late arrivals. At the reception itself the timetable may not follow exactly your schedule - drinks may overrun, the wedding speeches, the DJ might take a while to set up ... best to give everybody involved a list of the timing schedule so they can try and stick to it - and that includes suppliers, the best man, the chief bridesmaid, transport, the venue , the DJ ....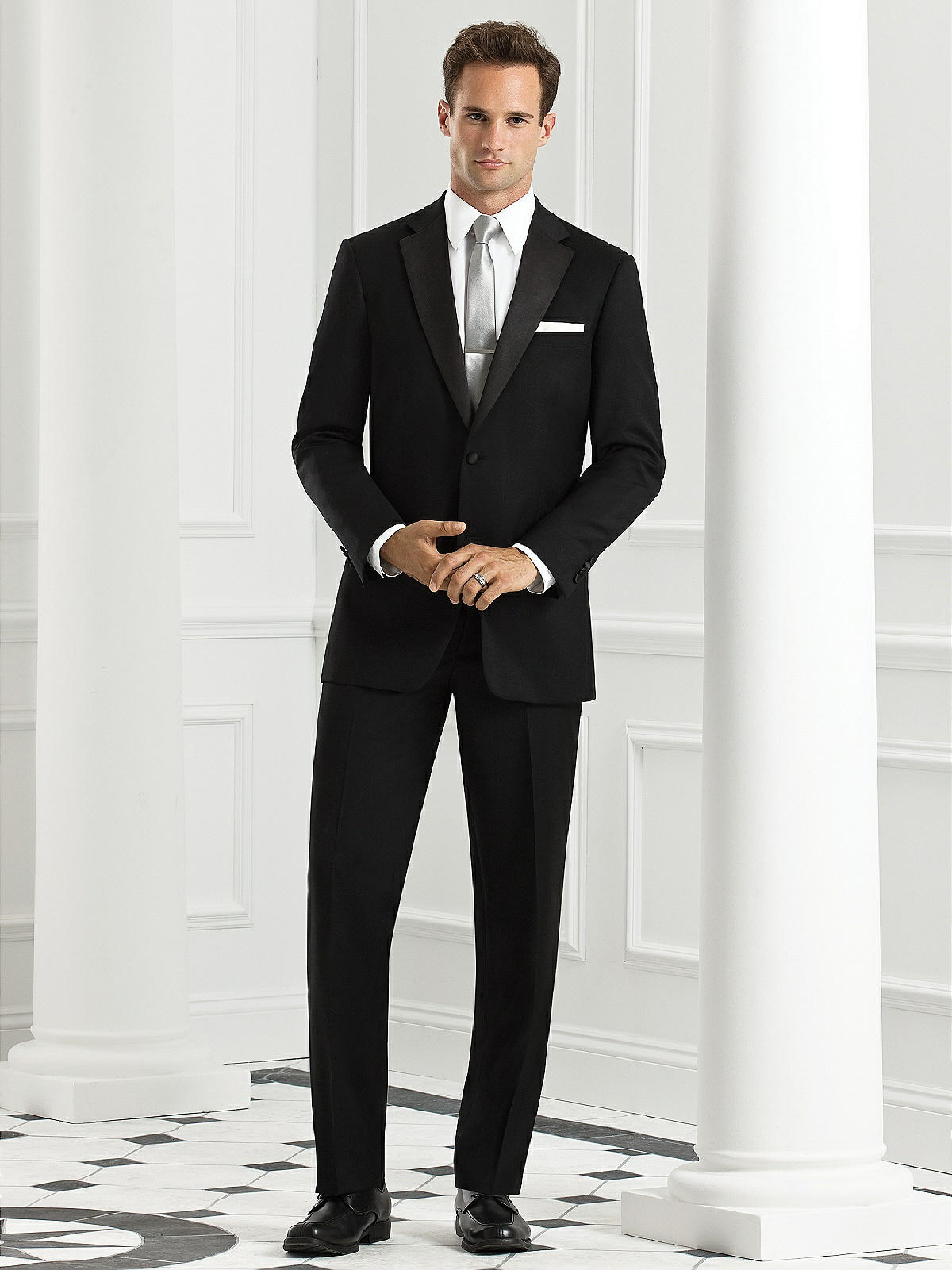 There's something about black tie that makes a man look sooo handsome. Dinner suit by After Six at Dessy

Tell guests what they should be wearing

There's nothing more embarassing than turning up at a party in the wrong clothes so it's always best to put what the dress code is on your wedding invitations. If you'd like everybody to wear morning coats, then say so. Or if you want to make it a black tie affair because you're getting married late in the day and having an evening party then put that on the invitations too. Or if it's lounge suits then you need to make that clear. Ladies should know to wear a cocktail frock if the event is black tie - so knowing what the men are wearing helps them with their dress code too.

Have you any hints and tips for dealing with dramas that can arise before or on your wedding day? If so, please share them with us and tell us how you coped!