Our Top 10 Favorite Wedding Songs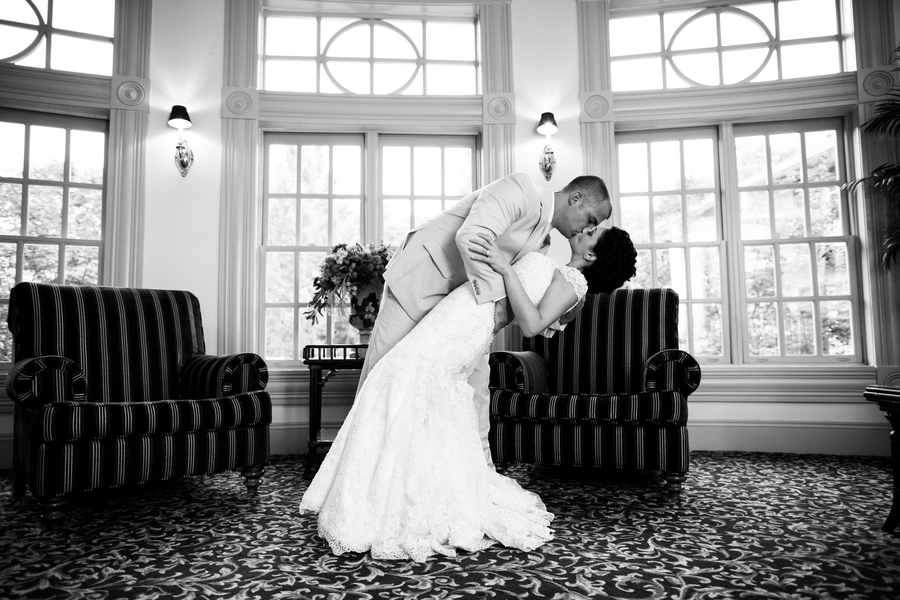 Photo by Whyman Studios
Believe it or not, many couples don't have their wedding song picked out as the wedding draws near. Many are so busy planning the big day that they forget the detail of finding "their song" for the wedding. Luckily we have compiled a list of wedding songs that may make your decision a little easier and maybe have your groom shed a tear!
Here's our list of our favorite wedding songs!
1. Christina Perri - A Thousand Years - To all the brides out there that swooned over Bella and Edward during the Twilight Saga: Breaking Dawn Part 1, knows that this is just a beautiful song to dance to at your wedding!
When choosing your wedding song you will want to look for something that really speaks to who you two are as a couple. You have the chance here to go the traditional route or with something more recent. What song resonates when you say, "I love you" or when you think of a special memory between the two of you? You will be surprised by what you come up with!
2. Bruno Mars - Just The Way You Are - This song by Bruno Mars would make for a second wedding song option! It's a beautiful song to twirl on the dance floor with your groom!
Keep track of songs you hear while you are planning your wedding, have your bridesmaids help you find the perfect song for your wedding song! Also, think about music and artists he may like as well as yours, that should make the search for a wedding song much easier.
3. Staind - Tangled Up In You - For the couple that loves a little rock and a lot of lead singer Aaron Lewis in their lives, this song by Staind is just lovely for a wedding song!
When considering your wedding song, you may also consider songs that have a cultural or religious significance to who you are as a couple or individually. Is there a song you just loved growing up that was also a love song of some kind that you always dreamed of having at your wedding? Ask your parents and grandparents for ideas about these types of songs.
4. Peter Cetera & Cher - After All - For those Peter Cetera and Cher fans out there, this song is just a beautiful song for your wedding!
Check the lyrics of all the songs you pick for your possible wedding song. You will want to make sure it is appropriate for your wedding, because after all, it will be played among a large crowd of family and friends.
5. John Legend - All of Me - This song by John Legend song actually shows his wedding with his own wife (who is the woman in the video by the way) If this doesn't say love, we don't know what does!
Does your wedding have a certain theme? Maybe consider a wedding song that goes along with the theme of your wedding. Or is your wedding decade themed? Find a wedding song that coincides with the decade.
6. Frank Sinatra - The Way You Look Tonight - No one can sing about love better than Frank Sinatra! How lovely is this song!
The first song is usually played immediately after the couple comes into the reception after they are announced by the band or DJ. The first song is usually danced by the couple alone. If there is second song you plan on including in your wedding repertoire, a faster more upbeat song is usually what is played.
7. Jason Mraz - Lucky (feat. Colbie Caillat) - How lucky you are two to have found each other! This song by Jason Mraz and Colbie Caillet is such a fun and playful song for the couple that met each other as friends first!
Considering dance lessons? This is definitely something to think about during your wedding planning. If you have some room in your budget, this could the perfect way to spend it for your wedding! If you are taking dance lessons and still can't find a song, ask your dance instructor for some popular songs.
8. Shania Twain - You've Got A Way - This song by Shania Twain is one of those songs that can easily make you feel as if you and your groom are the only two people in the room at your wedding, it is just that beautiful!
Make sure that the song you have chosen for your wedding can be played by your band. The last thing you want is your song not being played the way you remember it when you first decided this would be your wedding song.
9. Train - Marry Me - This song by Train couldn't be any more perfect for a wedding, I mean the title alone just says it all!
It's all about the right dancing shoes for the wedding! Take a look at all the shoes Dessy has available for your wedding day!
Ok, one last wedding song ... (we couldn't resist!)
10. Etta James - At Last - What wedding wouldn't be complete without Etta James? Because at last you two found each other!
If after all of this, you are still stumped for a wedding song, a simple Google search or bridal magazine should do the trick! Happy song wedding song hunting!!