Deliciously Chic - A Cadbury Purple Wedding Day Moodboard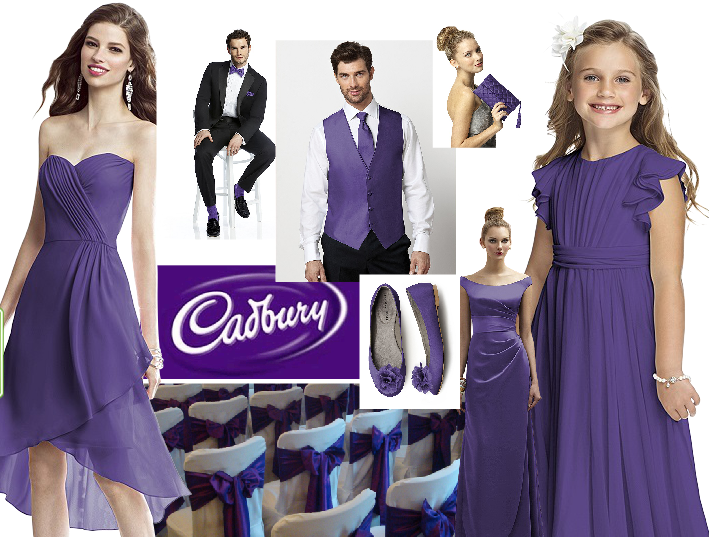 When in doubt, turn to chocolate.

Oh I know, I know. You're keeping an eye on the calories and carbs in the run up to your big day so that you look your best ever. And that's not to mention the gym sessions, the running and the workouts. So well done.
But what I'm really going on about here is the fabulousness of a Cadbury purple-themed wedding day.
It's a colour that's not going to go out of style anytime soon.
You'll find stationery, accessories, bridesmaid frocks - even wedding cakes that feature that particular shade of purple. Have a look at stationery by Zazzle and cakes by Rachelles Beautiful Cakes to get that particular shade.
Our match is Regalia and you can use our Pantone Chiplettes to help you co-ordinate your colour exactly.
Wedding favours are absolutely not going to be a problem. Mini bars of Cadbury's Dairy Milk?
Purple wedding shoes look divine peeking out from underneath a traditional wedding dress (adding a contemporary touch of quirky).
When it comes to choosing your wedding flowers, you'll find plenty of options in purple; orchids, delphiniums, dahlias, iris, lilacs ... your florist will be delighted you've chosen the shade because it brings so much choice - at whatever time of year you're getting married.
And then there are Cadbury purple chair sashes ...
I could go on - but you get the picture. Time to make your own moodpboard maybe?
Image credits: All clothing via Dessy. Chocolate via Cadburys. Chair sashes via Ambience Venue Styling.