Four Reasons to Have Our New Bridesmaid Planner App!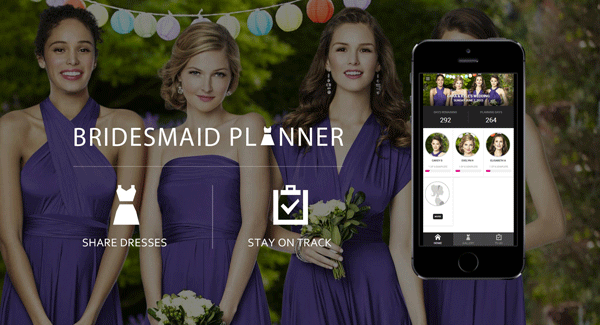 We are so excited to announce the launch of our Bridesmaid Planner application! While it is still in beta mode, we want to share four reasons why you should be running to your computers and soon on your mobile devices! Don't forget after you download the app take our feedback survey and get a FREE set of Pantone color guides and shopping tote!

1. The Bridesmaid Planner allows you to invite your bridesmaids to join your bridesmaid to-do list. This includes everything from sharing dress option to receiving the fitted dresses. You will have so much fun communicating with bridesmaids and it will give you peace of mind that all of your bridesmaids will be as ready as you are for your wedding day! The Bridesmaid Planner will eliminate any stress as you plan together along the way.

2. With this application you will be able to upload and assign dresses to your bridesmaids. Once you have assigned a dress, make changes to the dress or select a new dress your bridesmaids will be automatically notified.

3. The application allows you to use your new Bridesmaid Planner account for your wedding along with any other upcoming weddings in which you will be a bridesmaid. Which is great because how many times have you seen brides planning their own wedding and are bridesmaids in several others. An app like this is definitely needed.

4. Keep your girls organized! Once each of your bridesmaid are registered, they will be presented with a milestone task list to keep everything running smoothly for the big day. The Bridesmaid Planner comes with suggested milestones and dates.



Speaking of more planning, check out all of our Pantone Wedding color guides at Dessy.com!