How To Have A Fabulous Wedding for Under £5000
I was listening to the news yesterday and heard that the average price of a wedding nowadays is over £20,000.
That's a lot of money.
And I thought to myself, 'you know, you don't have to spend that much to have a fantastic and memorable day.'
So I set myself the challenge of putting together a dream big day for a bride that would come it at well under £20,000. In fact more like £5000.
After all, you don't want to start married life in debt.
It is important that you set a wedding budget first and foremost and don't let yourself get carried away.

So here are some ideas to think about. All the ideas below allow for a guest list of 50 people.
1. Marry out of season or during the week
This is an absolute top tip if you're trying to stretch your wedding budget. Get married in November, January or February and you'll find many more deals at venues - and if you marry during the week - on a Monday, Tuesday or Wednesday you could find even more bargains (and more availability).
You don't have to DIY your wedding
You may have thought - 'well, we'll have a homemade buffet to save money and hire the village hall' but I've found some packages where the food and venue is included, in case you don't want to go to the trouble of having a fully DIY wedding day.
Eastclose Country Hotel in Dorset has an amazing wedding package for £1750 in 2015 which works out at £34.99 per person. It includes:
Three Course Sit Down Meal and Coffee
Wine with the Meal
Bubbly for Speeches
Master of Ceremonies
Colour Coordinated Table Dressing
Table Centre Candelabras
Traditional Two Tier Wedding Cake with Stand and Knife
Complimentary Honeymoon Suite
Free use of Banqueting Suite for your Evening Party
You can also add an evening buffet for £12.99 per person.

You'll also need to pay for the registrar to marry you which is around £400, plus £70 for the notices of intention to marry.

2. The Dress

It's going to play a starring role on your wedding day so you want to get it right. So how can you not spend a fortune?

First off, check out wedding dress sample sales which are frequently held by designers. You can buy ex-display designer dresses at a knock-down price, the shop will adjust it to fit you and do any dry cleaning necessary.

You can also check out once-worn dresses. Swoon Wedding Gowns has an excellent selection of once-worn and ex-sample wedding frocks.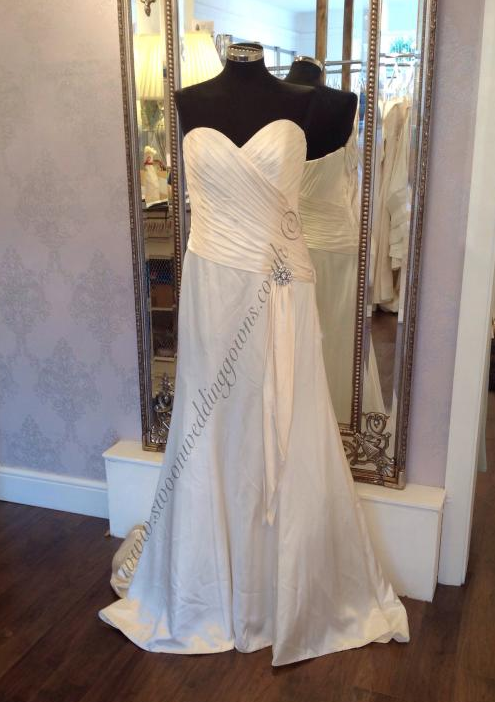 Alan Hannah designer wedding gown reduced to £495 by Swoon Wedding Gowns
Photographs are a must for your wedding - don't rely on a family friend, far better to get them taken professionally. Your Perfect Wedding Photographer has a list of photographers in different areas at different budgets and some come in at £500-£1000.
That's the venue, food, dress and photography sorted which leaves you around £1500 to spend on flowers, accessories and invitations.
If you've any tips for budget weddings can you share them with us?