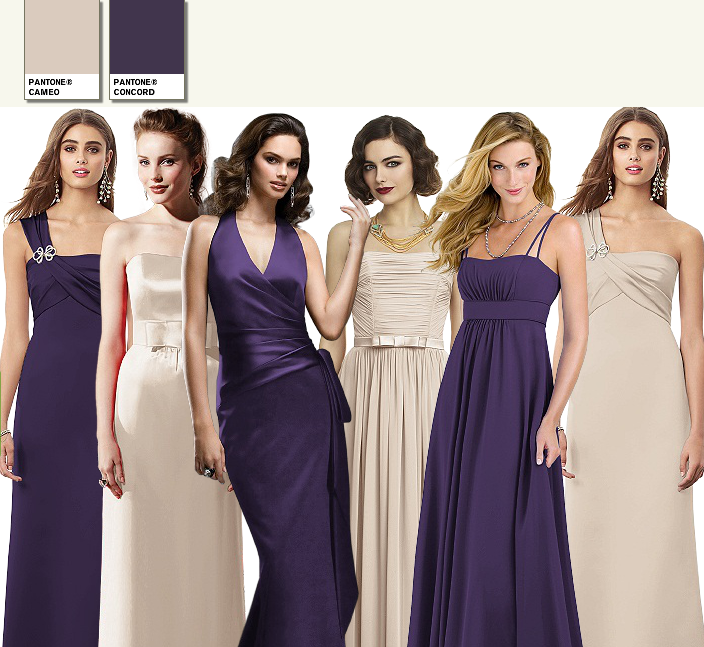 Perfect for a sophisticated evening wedding ... your girls will love you for this! All bridesmaid frocks by Dessy.

Did you know that you can get married in the UK up until 6pm now?

Which brings into view all the elegance and classiness that an evening wedding offers you.

You can have the ceremony at 6pm and then go straight into hosting a fabulous cocktail party, followed by dinner, speeches and dances. There's no waiting around all afternoon.

You may also find that an evening wedding helps you to stretch that all important wedding budget that bit further. How? Because unlike a wedding that starts at say 2pm and finishes at midnight, you'll only have to feed your guests once. You won't have to do afternoon tea and an evening reception.

It may also be easier if you don't particularly want to have children at your wedding. An evening wedding spells 'grown-up party' and if people do want to bring their children, then they can attend the ceremony and then retire for the evening to a chill-out room or to bed looked after by a babysitter. Certainly something to think about.

And what you'll all wear ...

An evening wedding equals elegance and sophistication. So dress your bridesmaids accordingly in swish evening frocks (which they'll enjoy wearing in the future as well). It's not often we get a chance to wear a long evening dress so grab it.
You could also make your guest dress code black tie - which everyone can wear to the ceremony. (Don't forget to put it on the invitations.) Dessy has some fabulous dinner suits for men.
What dress code will you have at your evening wedding!
Featured image via Wild At Heart