Flowergirls for a Spring Wedding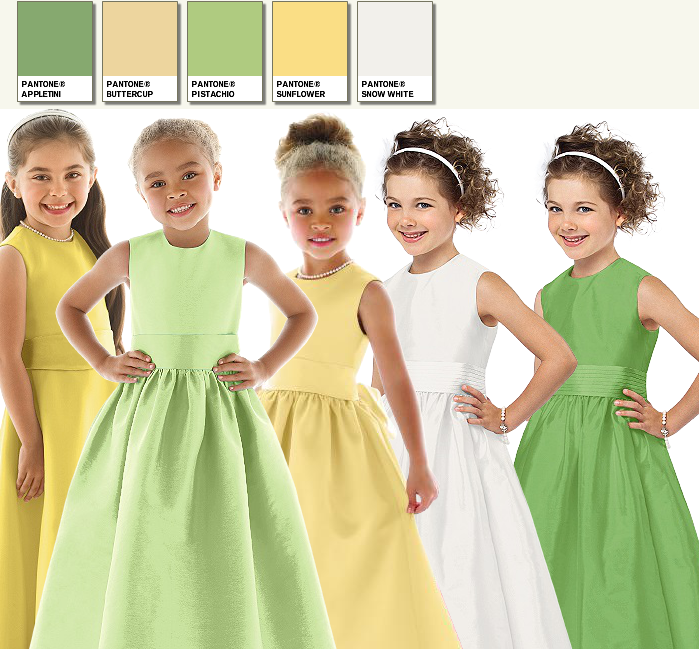 Flower girls in Spring frocks by Dessy
Spring brings the promise of the year ahead.
New opportunities, new colours - a whole new season.
It's a wonderful time of year to get married. The weather is brighter, Nature has shiny new colours, flowers are bursting out into bloom.
Take a leaf from your surroundings and use the Spring months as your wedding theme. Dress your girls in new greens, daffodil yellows, sunshine ....

Greens and yellows work together beautifully and make a good tonal palette for your flowergirls' frocks. You don't need to choose the same colours for each - mix it up a bit and that goes for the dress styles too.

At Dessy we say that every colour has a dress and if you look at our flower rgirl dresses you'll see a veritable rainbow of choices.

You can bring spring colours through to every aspect of your day - your save the date cards, wedding invitations, seating plans and menu cards.

As for your flowers, talk to your florist about your choices which will include scented narcissi, tulips, daffodils, hyacinths ... wonderful fragrances for your reception.

Use blooms which are in season to get the very best available (and stay within your budget).

We love Spring weddings at Dessy - if you'd like to see some Dessy real weddings then look here to see how other brides styled their big days ...
A Real Dessy wedding with real life bridesmaids