Pink. Is it a bit Marmite? Do you love it or hate it? Well stop right there. Keep an open mind on it. Because there are actually many different shades of pink - over 50 in fact.

There's (deep breath here) - blush pink, baby pink, soft pink, rose pink, hot pink, shocking pink, fuchsia pink, deep pink .. and so on.

And it's a great colour for weddings ... whatever shade you choose.

Going for Ombre

What's ombre? Well, it's when you combine contrasting shades of the same colour - and here's we're talking pink - to give a graduated effect. If you don't want a single shade it makes a great overall look. You can use the ombre option for bridesmaids dresses, the groom's waistcoats and cravats, your wedding chairbacks, your flowers and even your wedding cake. And of course, many colours come in pink - another reason why it's such an inspirational option.
Here's how to do ombre table flowers in pink. Image via OneWed.com
This image is a perfect example of how you can use pink in a way that doesn't overpower. Pretty hey?
What pink will suit your wedding season?
We'd say that gentle pinks - light rosy hues, petal pinks and blush - work well in winter (add a touch of sparkle) and in the height of summer.
Gorgeous pink ribbons for this bride. Maybe match up your flowergirls' sashes to this? Or is it the other way around.
On the other hand, if you're marrying in autumn or winter, then think about deep shades. Maybe a deep merlot or a rich plum, or an aubergine. You want to go for pinks that have a purplish/blue hue. The light is different in winter and summer so make it work for you.
As for spring, then take your inspiration from the colours around you. Maybe the blossom on the trees (so that will be a light pink or maybe a fuchsia), hyacinths in pink or pink tulips.
How pretty is this?
We'd always say go for flowers in season - it's more eco friendly and it's more budget friendly too. Talk to your florist about what's on offer during the month you get married and maybe let your floral pinks dictate the pink you choose.
Pink at your wedding reception
This is where you can really indulge yourself . If you're marrying out of doors under a gazebo, then dress it up with chair sashes in your chosen shade. And again, don't feel you have to stick to one colour. You can add table sashes, lanterns and ceiling drapes too.
On your tables you could scatter pink confetti or tuck a pink flower into each guest's napkin.
Image via Wallpaperscraft.com
Tools for choosing the right pink for you
Browse through the various pinks on offer by buying a Pantone colour guide to your selected hues.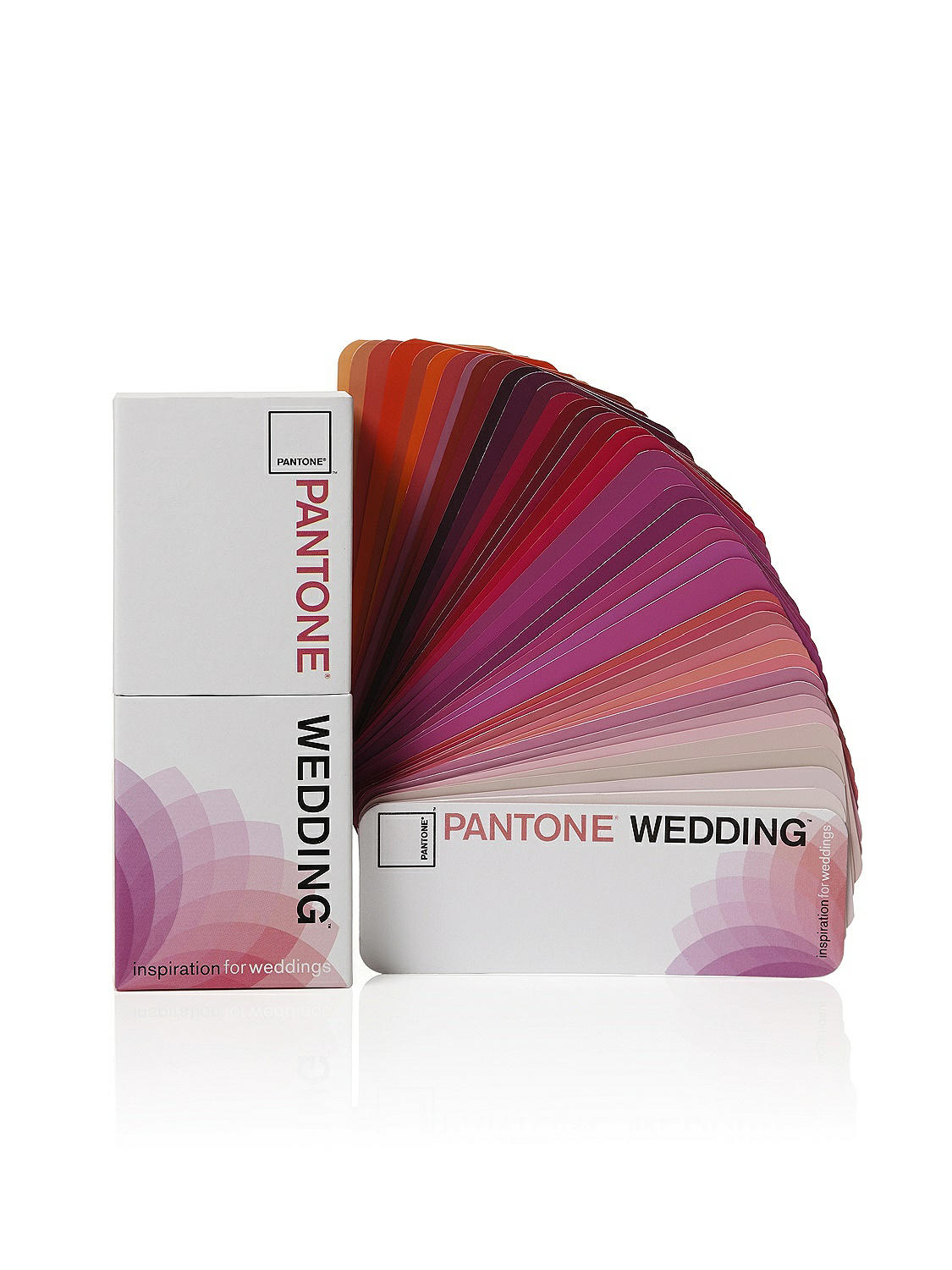 Pantone colour guide in pinks. from Dessy.com
So see what you can do with pink - your wedding options will surprise you.
Featured image via SarahKatePhoto.com