Bridemaid Necklines To Flatter The Less Well-Endowed!
It seems like no girl is ever really happy with her figure. If she's got boobs she'd probably rather have a bit less. And if she's fairly flat chested she'd probably like to have a little more.

Now surgery is one (rather dramatic) option - but choosing a frock that's well cut and cleverly tailored can give you the illusion of something that's not there (or less of something that is there, if you get my drift).

And when it comes to what you've got 'up there', if you want to make more of it you need to be choosing a bateau, halter or ruched neckline.

Luckily for you, Dessy understands the shapes and sizes we all come in and so offers plenty of pretty bridesmaid frocks to suit just about any individual.

Evening length, cocktail length, strapless, one shouldered - in just about any colour combo you can imagine

Here are some options we'd recommend for the less well-endowed bridesmaid. (And tomorrow we'll be putting together some choices for girls who have rather more 'up top' than they'd like.)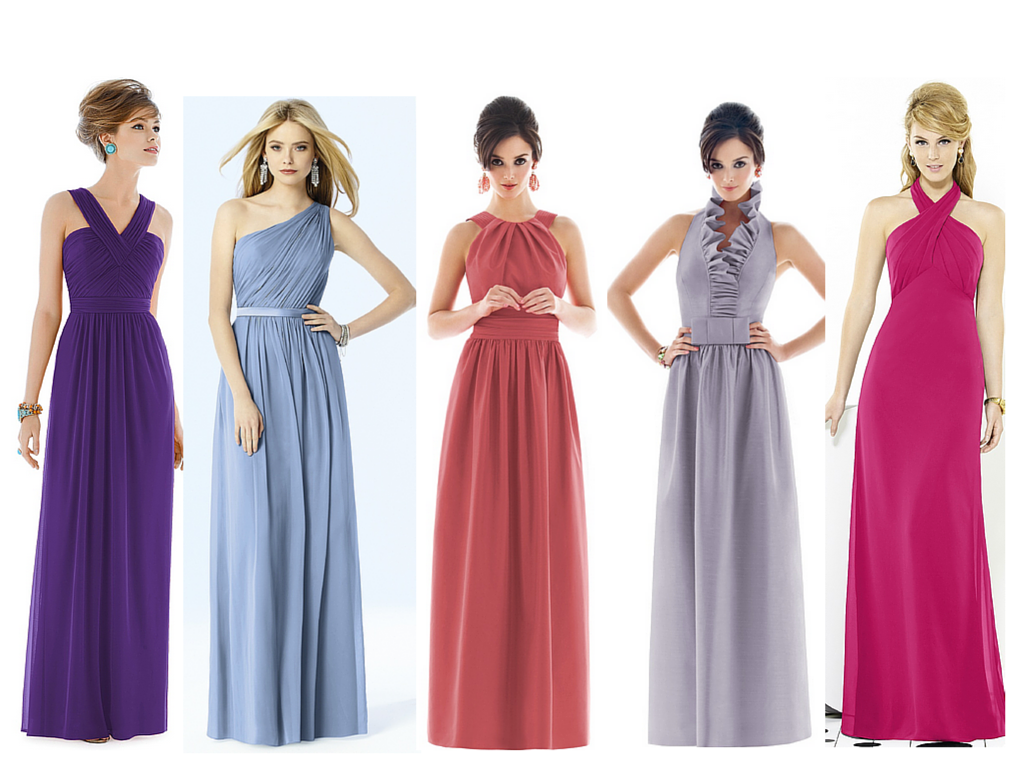 Any of these styles would suit a girl who is somewhat flat-chested

(Styles from left: Alfred Sung D678 in Majestic, After Six 6706 in Cloudy, Alfred Sung D494 in Firecracker, Alfred Sung D469 in Charm, Dessy Style 6716 in Tutti Frutti)

You may have dismissed the idea of wearing a halter neck style if you're flat chested but in fact it can work to perfection if you choose well. Decide on a style that has some ruching and detail at the neckline to distract the eye. All of the styles shown above are by Dessy and fit the brief perfectly and come in a variety of different colours to suit your wedding theme. They also come in cocktail length versions if you'd rather opt for short dresses.

A one shoulder style with ruching would also work for the same reason and a bateau neckline is a classic choice for girls with less up top.

The other lovely thing about all these frocks is that they don't look like traditional bridesmaid dresses - meaning that your maids will want to wear them again and again to posh events after the wedding.

A bateau neckline like this one in Alfred Sung Style 681 is also a classic choice for less well-endowed ladies. Elegant and chic, this dress is in midnight blue (a good choice if you don't want your maids to wear black) but of course because it's by Dessy you have plenty of other colours to choose.
Choose a dress that flatters your maids and you'll be friends for life - and of course the photographs will reflect that!

(Featured image Dessy Twist Dress)