Five Save The Date Ideas For Your Wedding Day
If you got engaged over the Christmas and New Year period then we'd like to wish you happiness and congratulations!
Now, if you've already got a date in mind for your wedding day then you need to be thinking about sending out Save The Date cards.
Here are five ways of doing it to be considering ...

You can create a free letterhead for your Save The Dates using a free design tool like Canva
1. E mailing everyone. The pros? It's quick, convenient, free. You can also design a special e mail header with a free design program like Canva to personalise your Save The Date. The cons? Some people might not check their e mail regularly, you might go to spam and not know it and it's slightly impersonal.
Create your own Save The Dates in a photobooth and then post out to your friends
2. Creating your own Save The Date cards. This is a fabulous idea if you've got the time and you're happy to address a good few envelopes and stamp them. Think of a good idea and your Save The Date could take pride of place on friends' mantelpieces and noticeboards. We like the idea of holding up a sign in the photobooth with the two of you getting snapped together. The cons? You'll have to pay for postage, envelopes and the initial photographs.
How about vintage style Save The Date fridge magnets personalised just for you?
3. Buying a Save The Date off the peg. Love these Save The Date fridge magnets we've just come across which you can buy online from Live Chic. Not expensive either and people will be reminded of your wedding date every time they open the door.
Save The Date Cards from Not On The High Street
4. The Traditional Way. You could block order your wedding stationery including Save The Date cards so that they match the stationery you've chosen for your invitations, menu cards, seating plans, orders of service and thank you cards. If you like uniformity, then this is probably the way to go.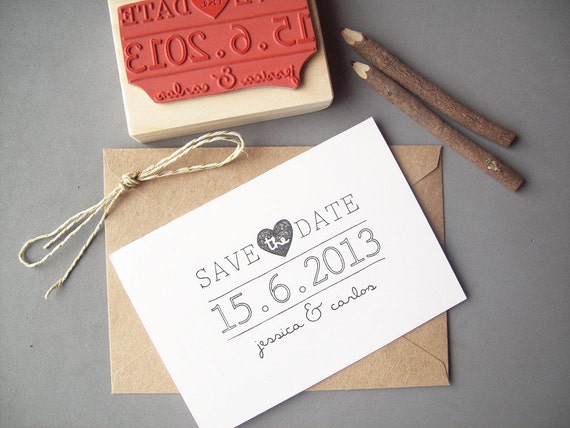 Save The Date stamps to personalise via Etsy
5. If you'd like to DIY your Save The Dates but want them to be a little more formal, then how about having a personalised rubber stamp made and then just printing on the stationery colour of your choice. (Think the manilla brown works well here.) It's a good halfway house to DIY-ing your own stationery and having it looking professional. You can buy blank cards to fit envelopes from craft shops for easy printing. Remember you can also order personalised 'Smilers' stamps from the Post Office using a photograph of your choice too.

Personalised stamps via the Smilers app from the Post Office