Shades for an Autumn wedding day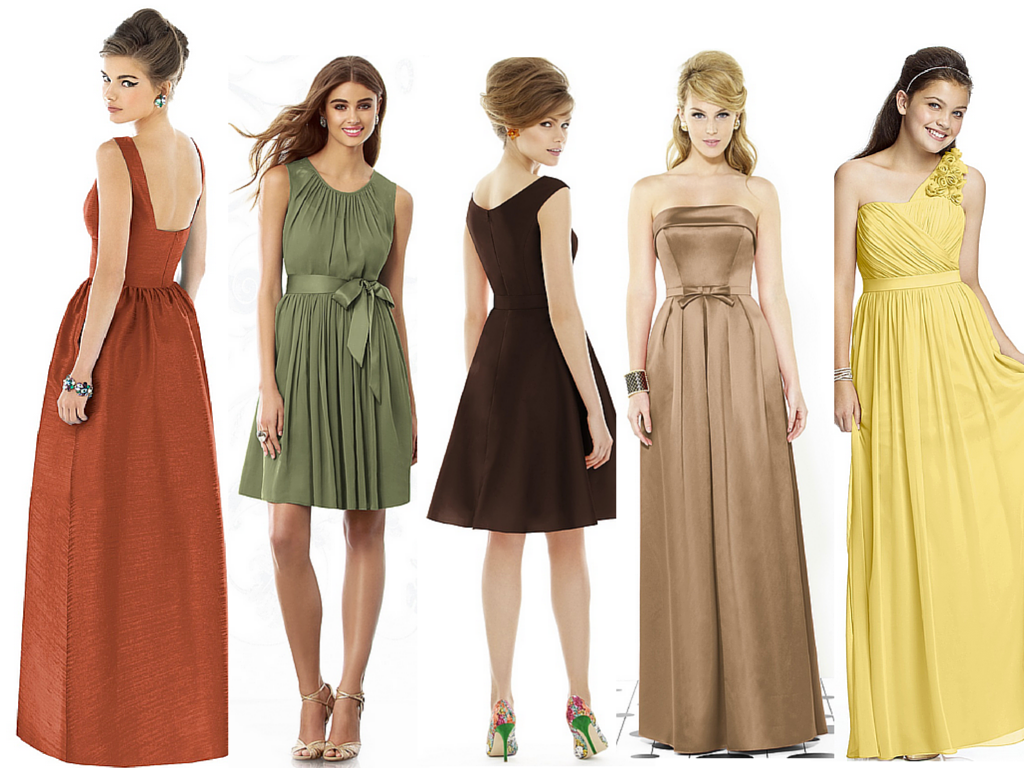 All dresses by Dessy. Styles from left to right: Alfred Sung D519, After Six 6689, Alfred Sung D686, After Six 6720, Junior Bridesmaids JB526
Have you set your wedding date yet?
Using the time of year to influence your colour scheme is an excellent way to stay in harmony with Nature.
In Autumn the sun is a little more muted than in high summer, a bit softer. So your colour choices should reflect this - and make the most of your natural surroundings. Which means using shades to reflect the changing leaf colours, seasonal fruits ....
Bridesmaids in Autumn Colours
This is the perfect opportunity to mix and match your bridesmaid dress colours.
The shade that looks fabulous on one girl won't look so good on another, so use colour swatches to work out what suits each of your maids best. Ask them. Some may suit yellows, others look stunning in russet oranges. You can keep uniformity by choosing one dress style, although I'd recommend that you also go for different necklines so each frock design fits each bridesmaid to perfection.
And Your Seasonal Flowers
Don't think that because you're getting married in Autumn you're going to have a smaller choice of blooms than if you got married in high summer.

In fact many flowers are at their best in the Autumn. I'm thinking chrysanthemums, dahlias. Roses are good year round and you can opt for autumnal shades in burnt oranges and golden yellows with green foliage. If you're feeling adventurous, why not ask your florist to include seasonal fruits in your bouquet or table centrepieces - apples, berries ...
Autumnal bouquet. (Image via The Natural Wedding Company)

If you're opting for a traditional white or ivory wedding dress, you could ring the changes by wearing wedding shoes of a different colour. Maybe in an autumnal bronze or gold, or green, red or even orange. Coloured shoes peeping out from underneath a bridal gown look fabulous.
If you wear coloured wedding shoes, you're more likely to wear them after your wedding day, so the cost per wear will reduce dramatically. Time to buy the shoes you've always dreamed of?
Decorating Your Venue
Holding your wedding in a venue with a conservatory would be the ideal way of letting the outside in and making the most of any good weather.

As for décor, ask your florist to use sheaves of wheat, corn, sprays of autumnal leaves, brambles ... everything that evokes this stunningly coloured season.

You could choose chair covers in autumnal shades - browns, oranges, greens - to co-ordinate with your bridesmaid frocks.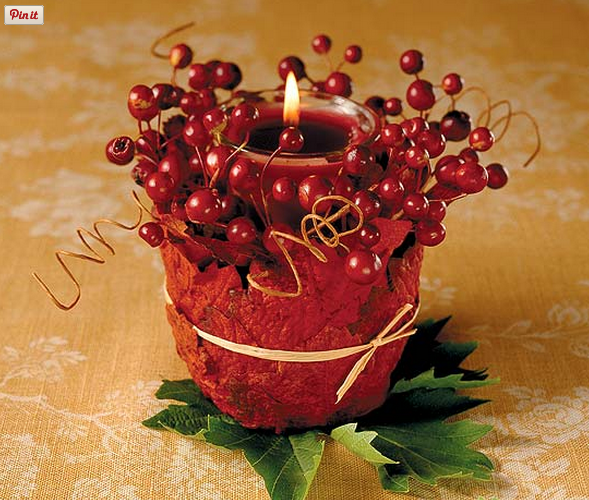 A simple DIY idea for your autumnal tables. I'd use a bronze coloured leaf underneath though. (Image via Most Wedding Flower Ideas.)
And to Eat?
At this time of year, you absolutely need to make full use of the seasonal produce that is available. Talk to your caterers and see what they have to suggest. Remember that if you choose food in season it's a) less expensive so will make your budget stretch further b) a lot better tasting. So consider apple pies with cinnamon spice, blackberry and apple crumbles ... For vegetables, consider all the delicious root vegetables that make an appearance at this time - maybe parsnip soup?
You could even ask your caterer to make a signature cocktail using seasonal berries.
Autumn is a fantastic time of year to choose for your wedding. It's likely to be less busy for people than high summer; your guests will have likely taken a holiday already and so will be around; the weather can be amazing, especially if it's an Indian summer; photographers will be more available than on a summer Saturday.